58m of majestic beauty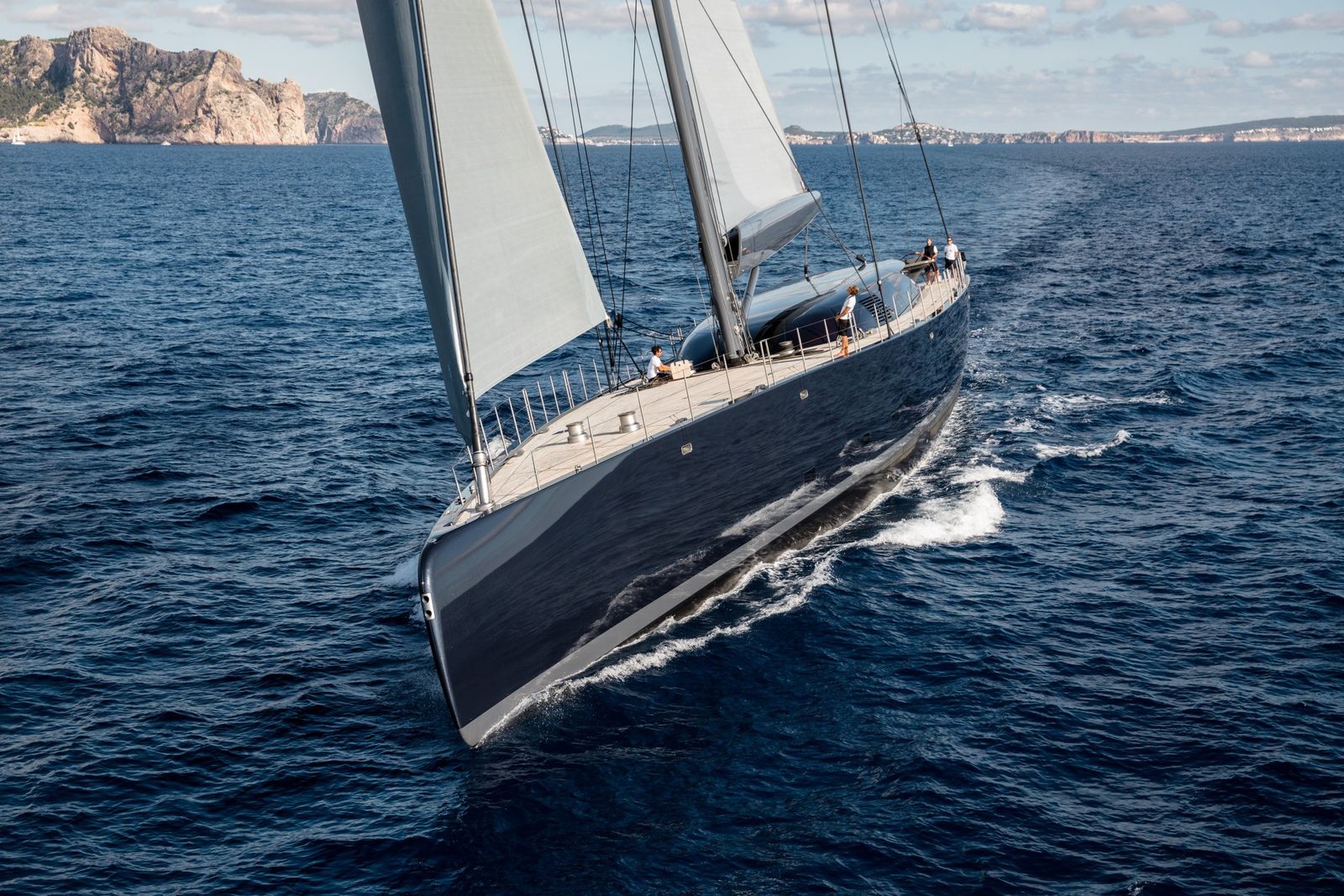 "Build me a Beast! Don't build me a sheep in wolf's clothing. This has to be an edgy and innovative weapon; fast and furious."
That was the essence of the brief from the owner.
Designed by Dubois Naval Architects and featuring an innovative interior by Rick Baker Ltd, S/Y Ngoni is fast and luxurious – the product of bold and minimalist design and built by Dutch yard Royal Huisman.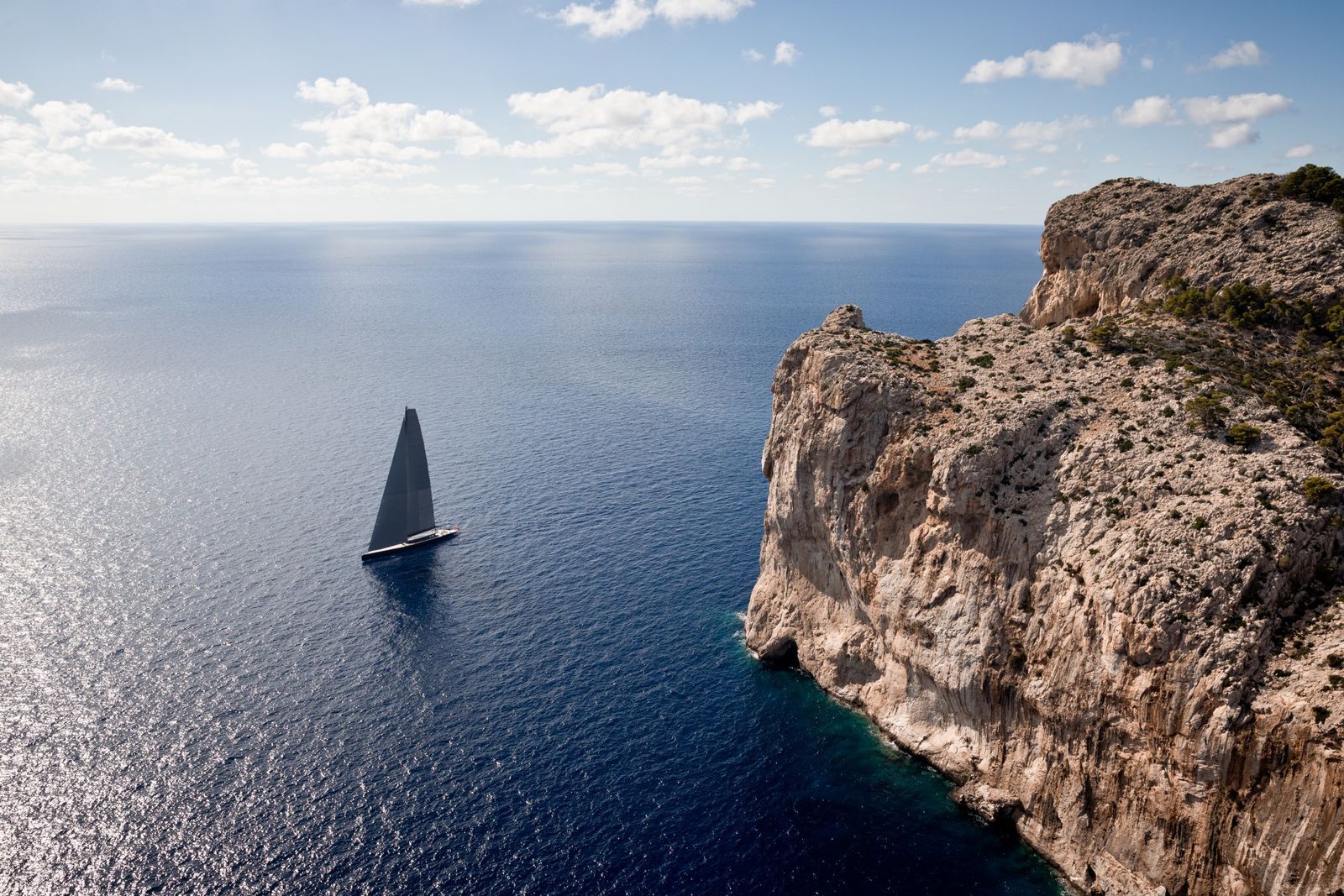 Design
Ngoni's sleek and beautifully executed exterior conceals a host of innovative engineering to meet the challenges of marrying a huge, powerful and advanced rig with a slender and easily-driven hull.
Initially, Dubois drew a long and slender sloop with a plumb bow, sculpted aerodynamic superstructure and elegant beach deck, dominated by a towering sloop rig.
It was a dramatic concept but the owner challenged Dubois to push it still further. Dubois' response was the reverse sheer that now defines Ngoni. It began as an exercise in creative expression but it soon became apparent that it also held the key to structural stiffness. Dubois further finessed the hull profile so that the reverse sheer transformed to concave sheer aft of the superstructure – an attractive styling touch that also enhances cockpit visibility. The owner had what he wanted.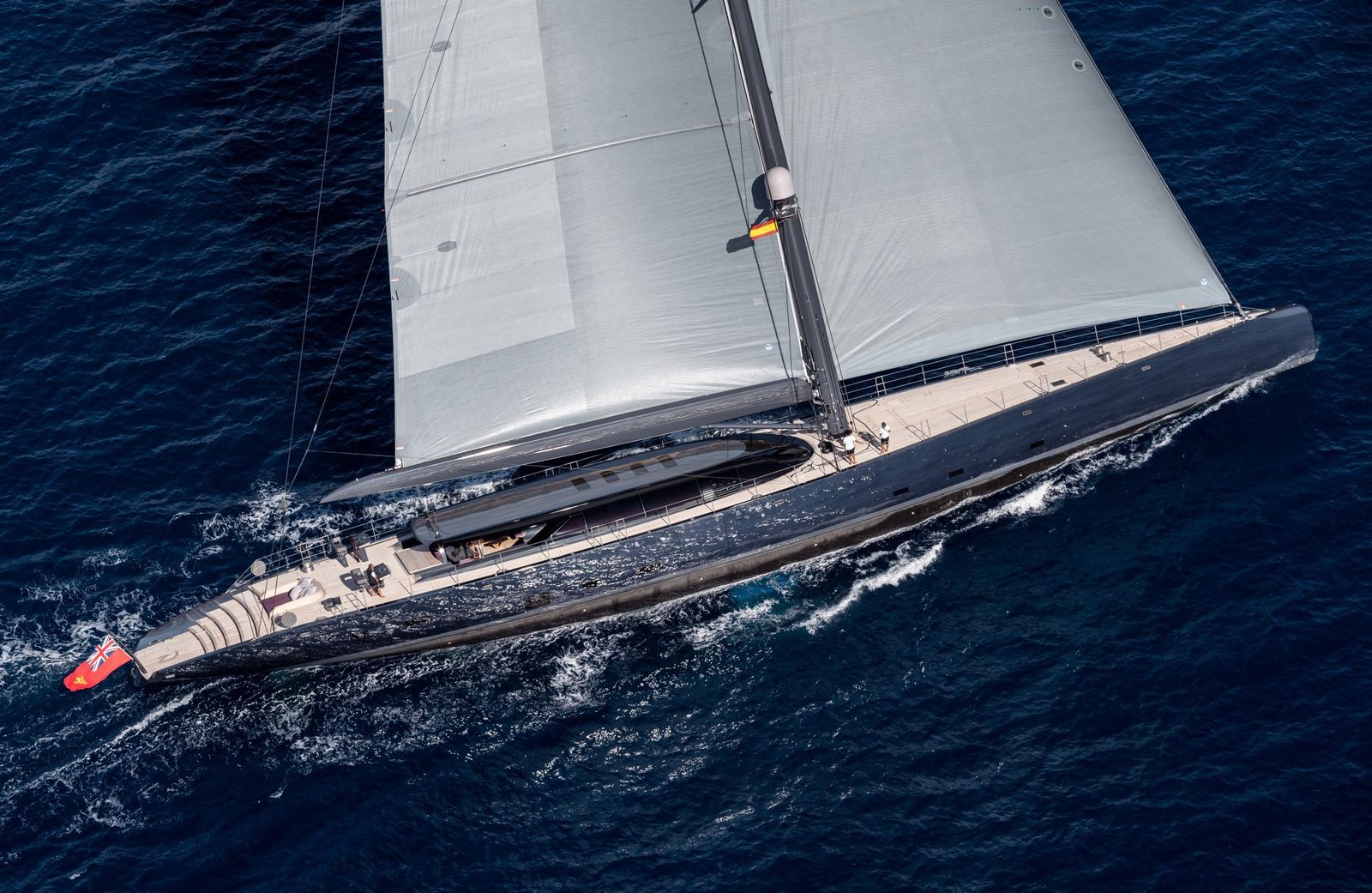 Ngoni is one of the largest sailing yachts in the world.
Its minimalistic, clutter-free design was one of the requirements from the owner. Also, as an experienced owner who likes to helm, he insisted on steering that was light, yet firm and responsive. The wheel had to give him the true feel of the boat under sail.
Finally, the yacht, however edgy in presentation, must still accommodate the owner, his family and guests in style and comfort. And it should facilitate the safe and efficient operation of the yacht by the crew.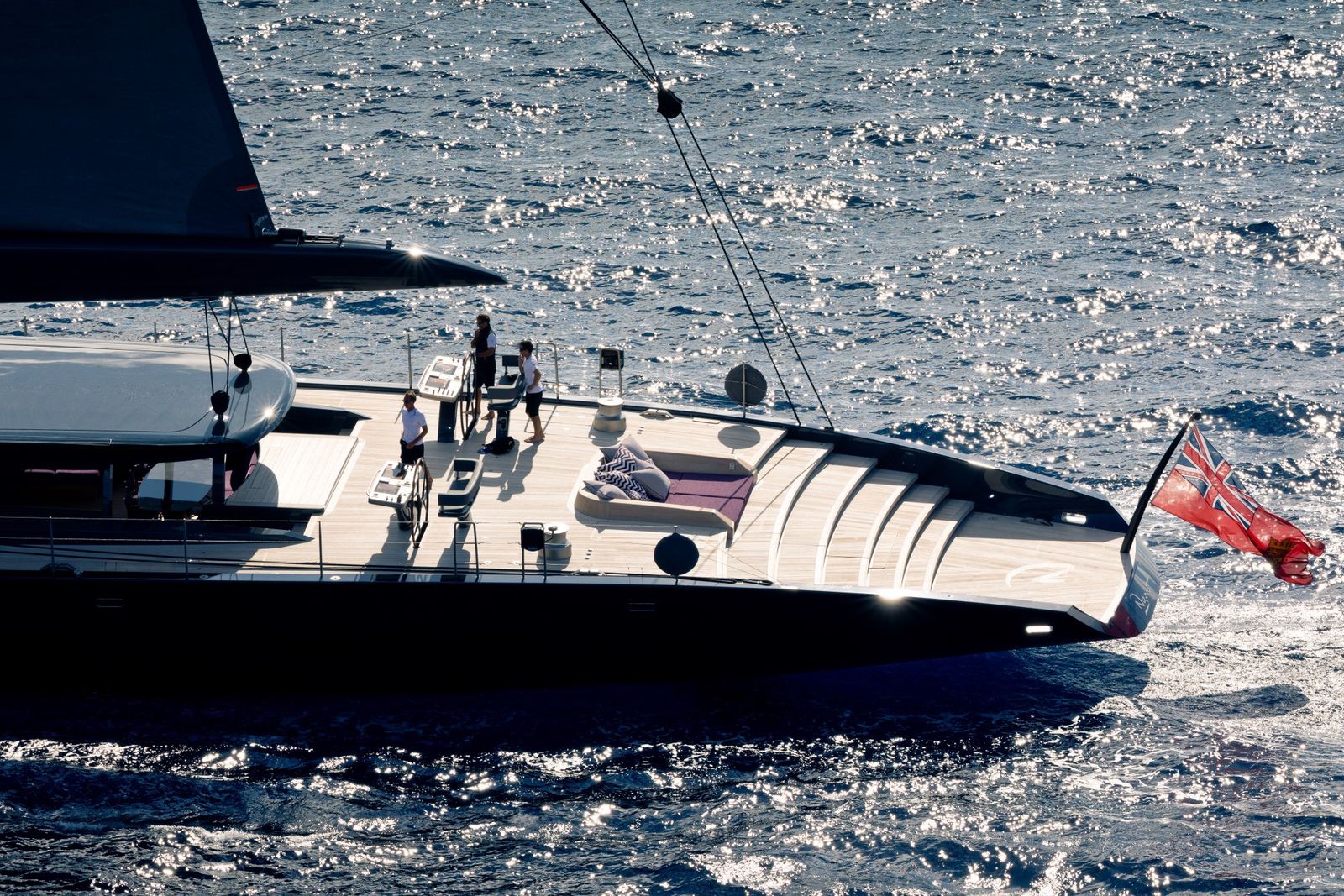 Rigging
The yacht has a total sail area of 1,950 sqm (upwind) and 3,093 sqm (downwind).
The 853sqm square-top mainsail is notable not just for its load-reducing halyard lock but for the innovation allowing the square-top and its supporting diagonal batten to detach automatically and furl neatly into the styled performance boom with minimal intervention from the crew. While hoisting, the diagonal batten attaches automatically too.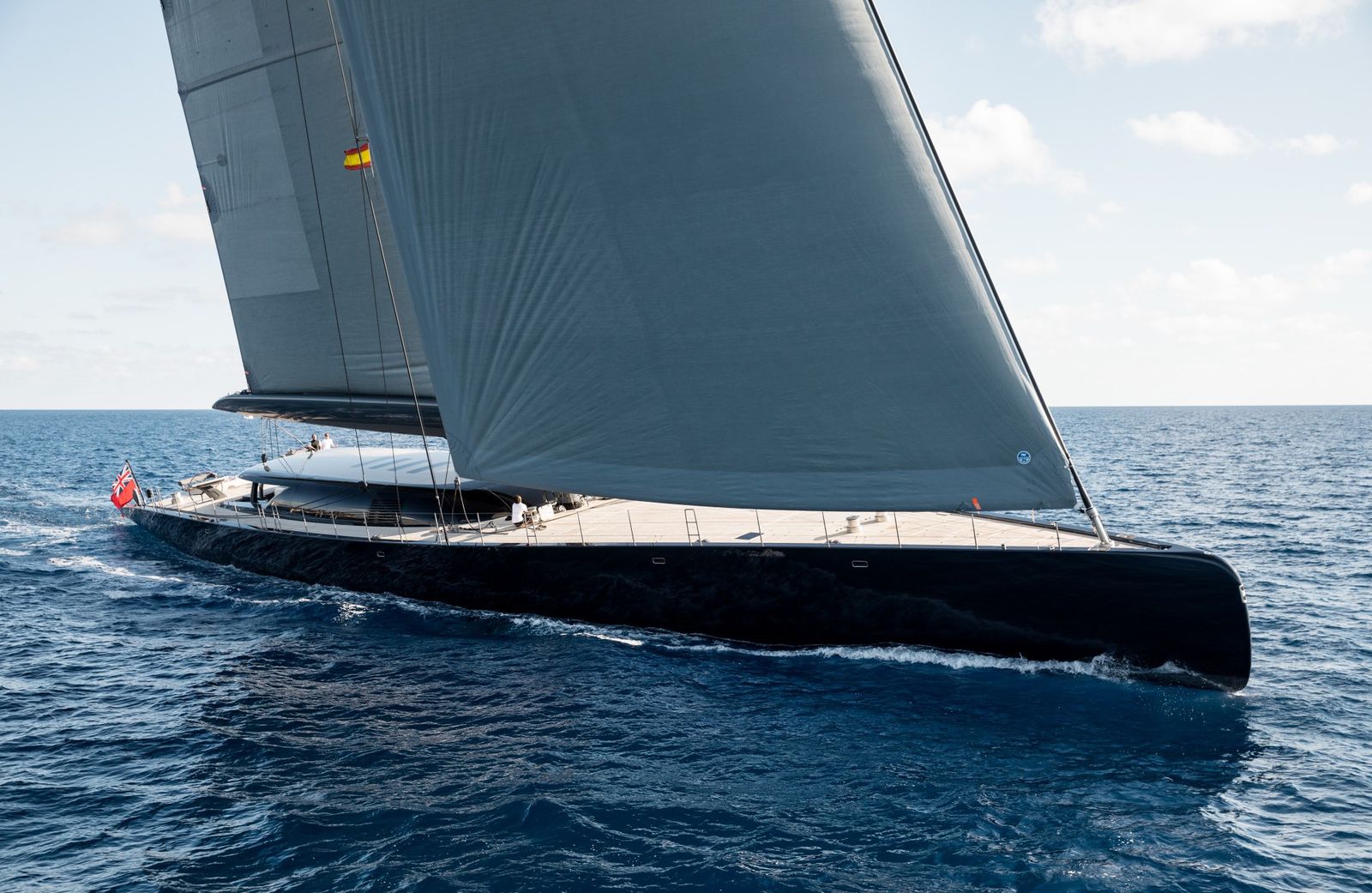 The rig was the result of the collaboration between spar builder Rondal (Royal Huisman's sister company), sailmaker North Sails and Carbo-Link, together with Dubois Naval Architects and the shipyard team.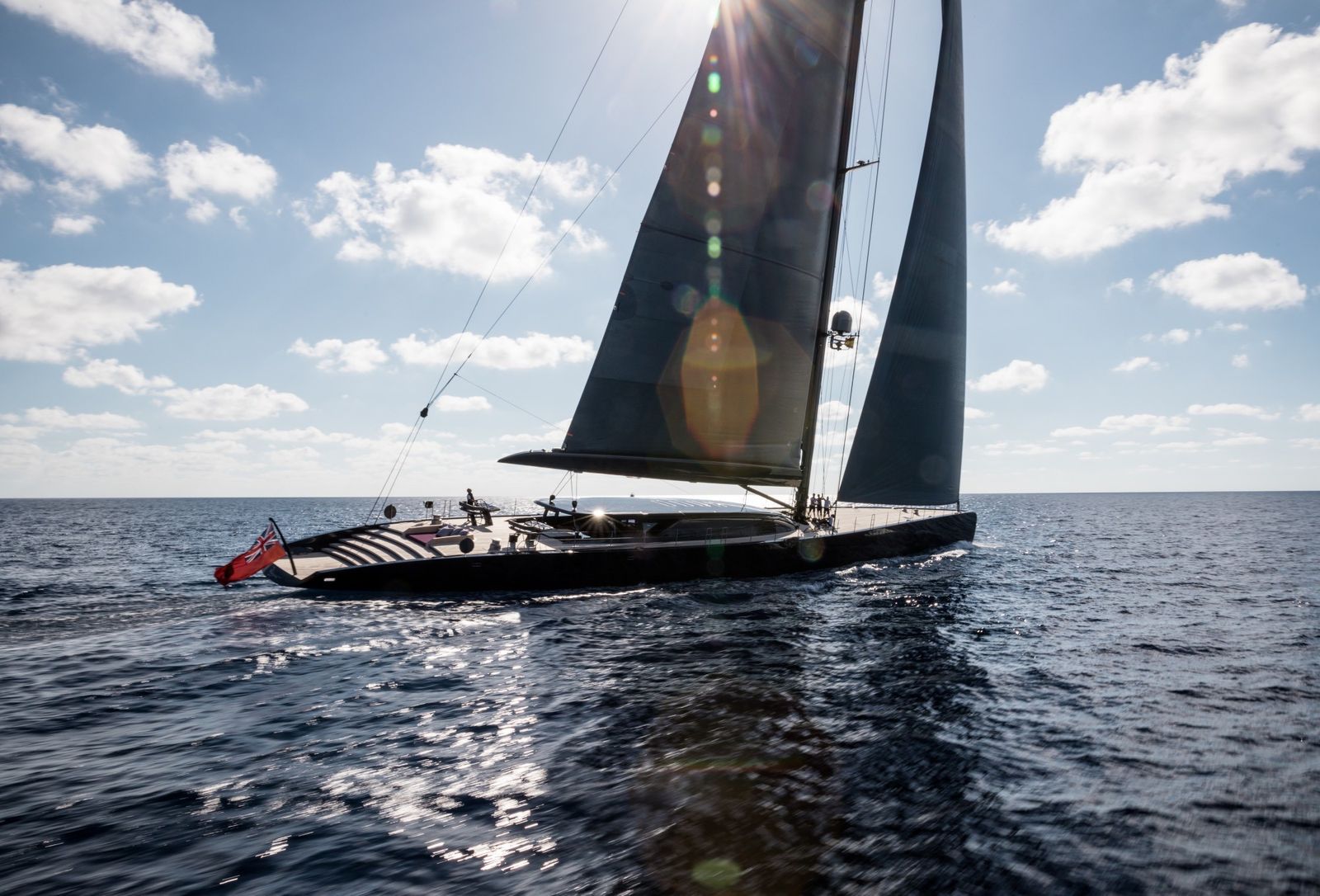 Rondal built the impressive 71m one-piece carbon mast with a 24m performance furling boom. The Dubois office, together with the owners' team, created one of the most extreme style-to-order boom ever seen. The almost 4m long aft extension of the boom, designed and crafted to follow the profile of the yacht's stern, created visual harmony between the two. Ngoni's full air-draft is 75m.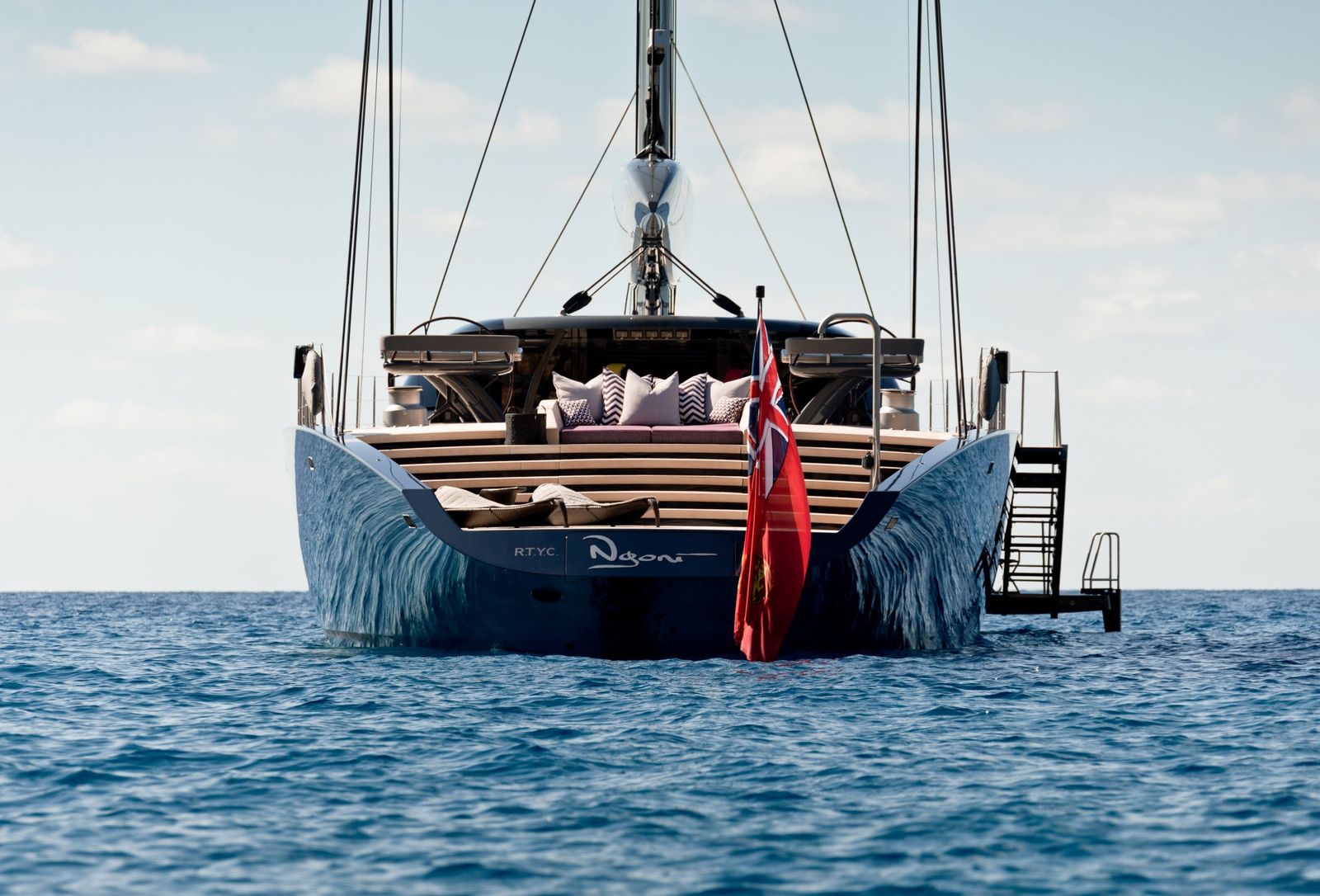 The owner's insistence on steering that was light, yet firm, responsive and adjustable could only be met by a high aspect-ratio rudder and a manual system without power assistance – a major challenge considering the huge sail area.
The final system with a single, balanced 6.92sqm spade rudder – one of the largest carbon rudders ever produced – has delivered on its objectives.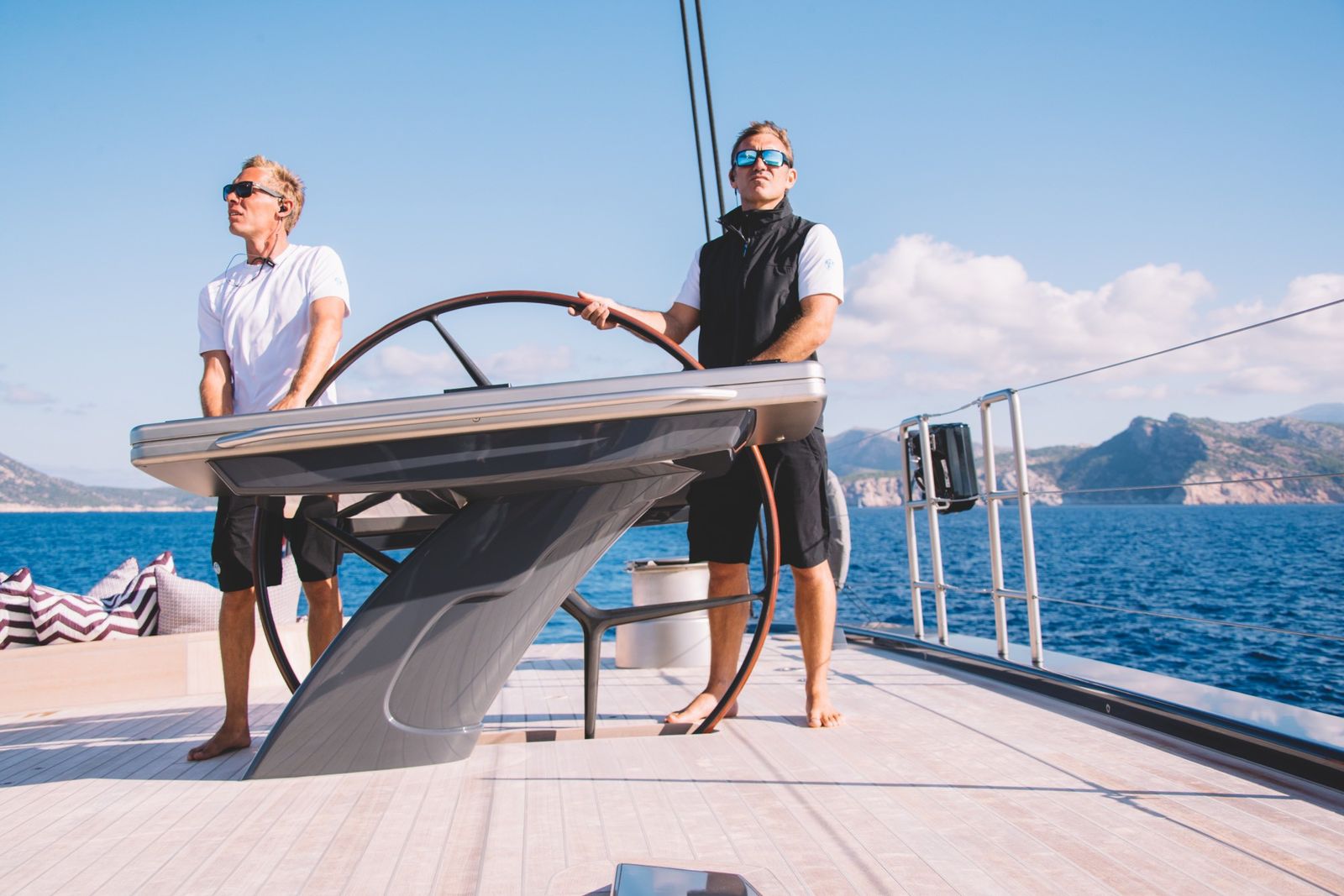 Deck
Ngoni's hull is punctuated by large rectangular portholes, a sea-level gym door, fold-out side boarding platform, two submarine anchors and retractable thrusters. The deck has giant cut-outs for flush sail lockers, a large tender gage, crane, spa pool and cooled waste locker.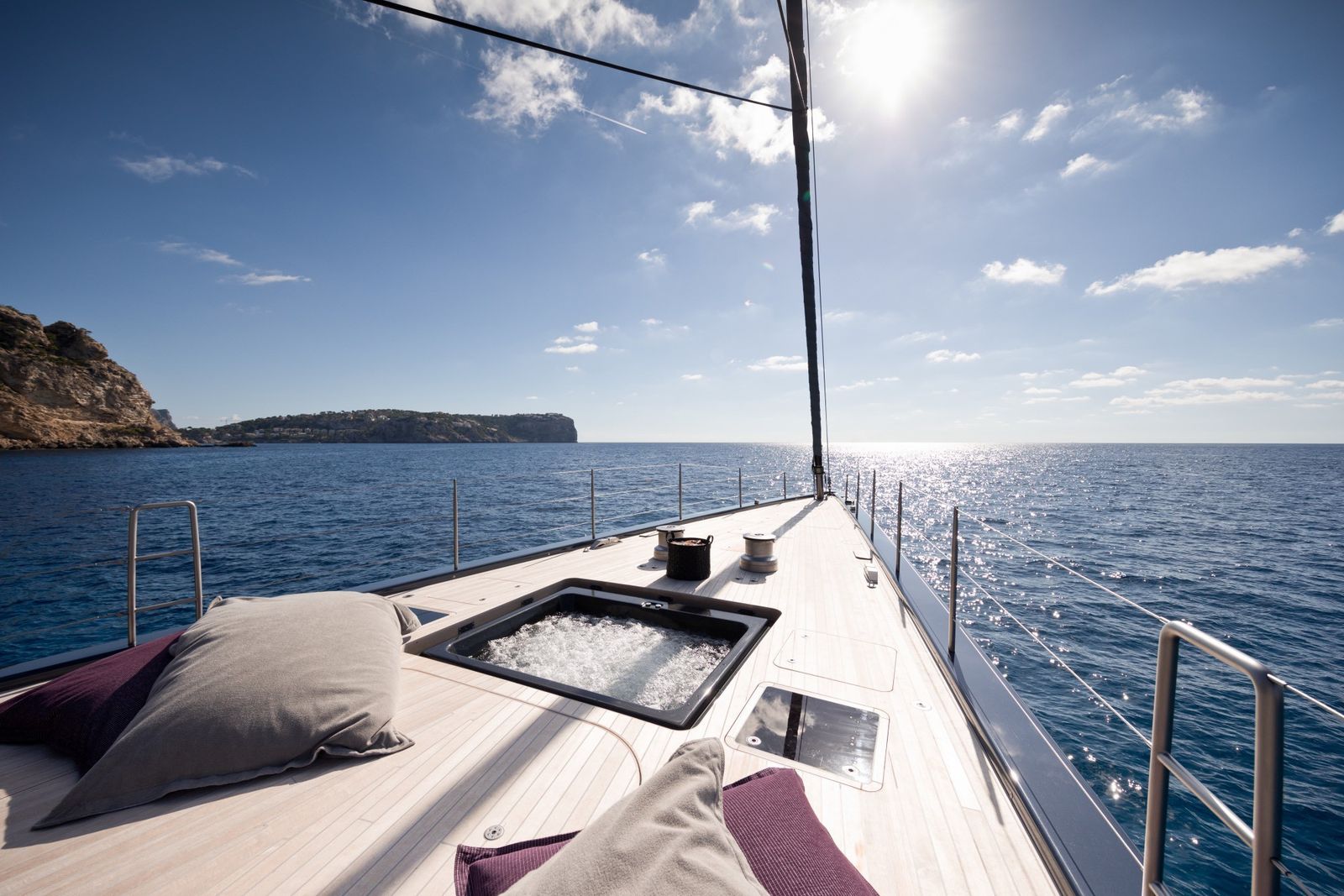 The lifting keel weighs near 100 tonnes and allows a reduced draft of 5.3m from the usual 8.1m.
The topsides are finished in a bespoke metallic topcoat named "Claire de Lune" (Moonlight). The paint has been applied with an electrostatic coating technique that uses charged particles to bond the paint to the surface.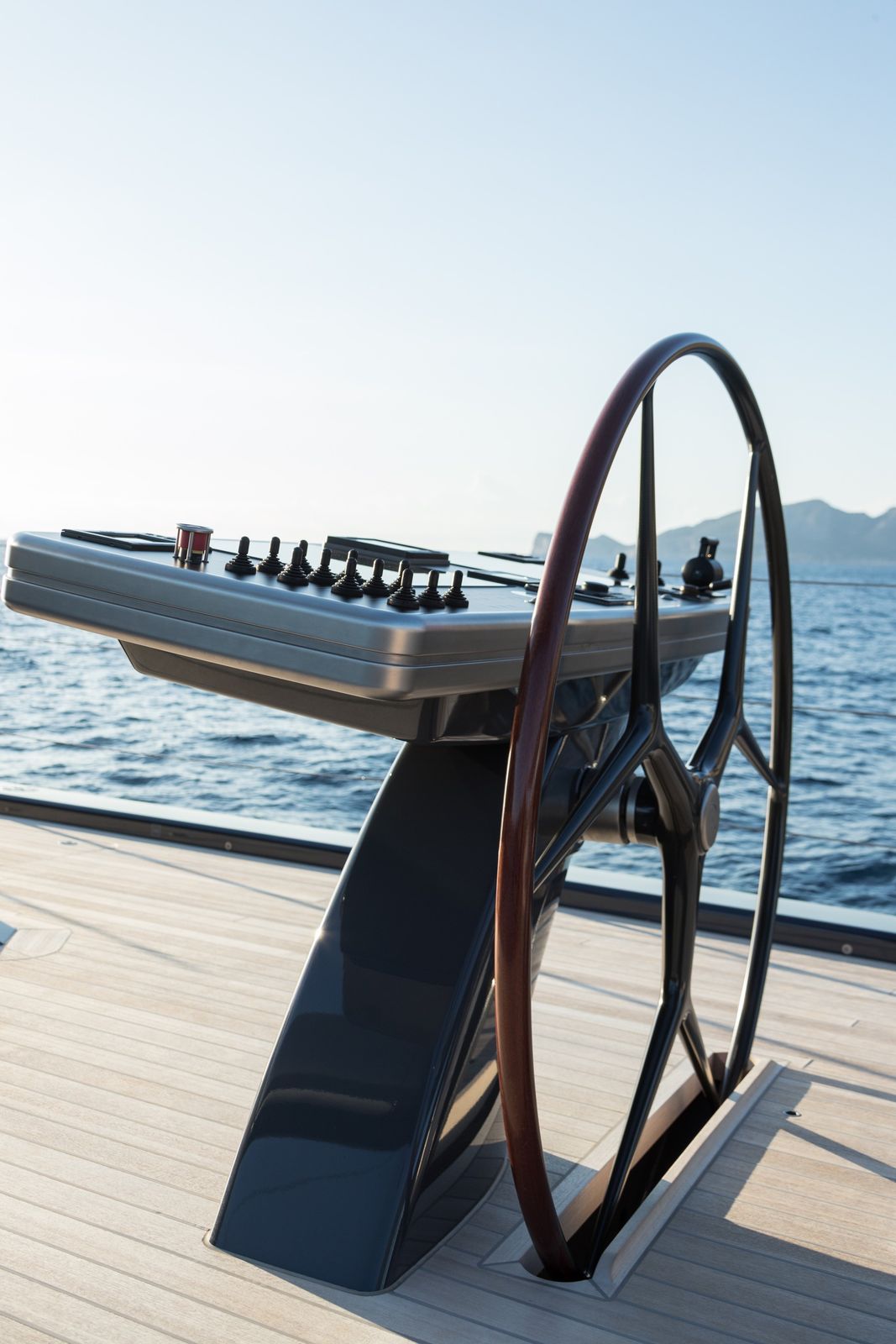 Ngoni has also a boarding platform and retractable bathing platform
Interior
"Don't design a traditional yacht interior"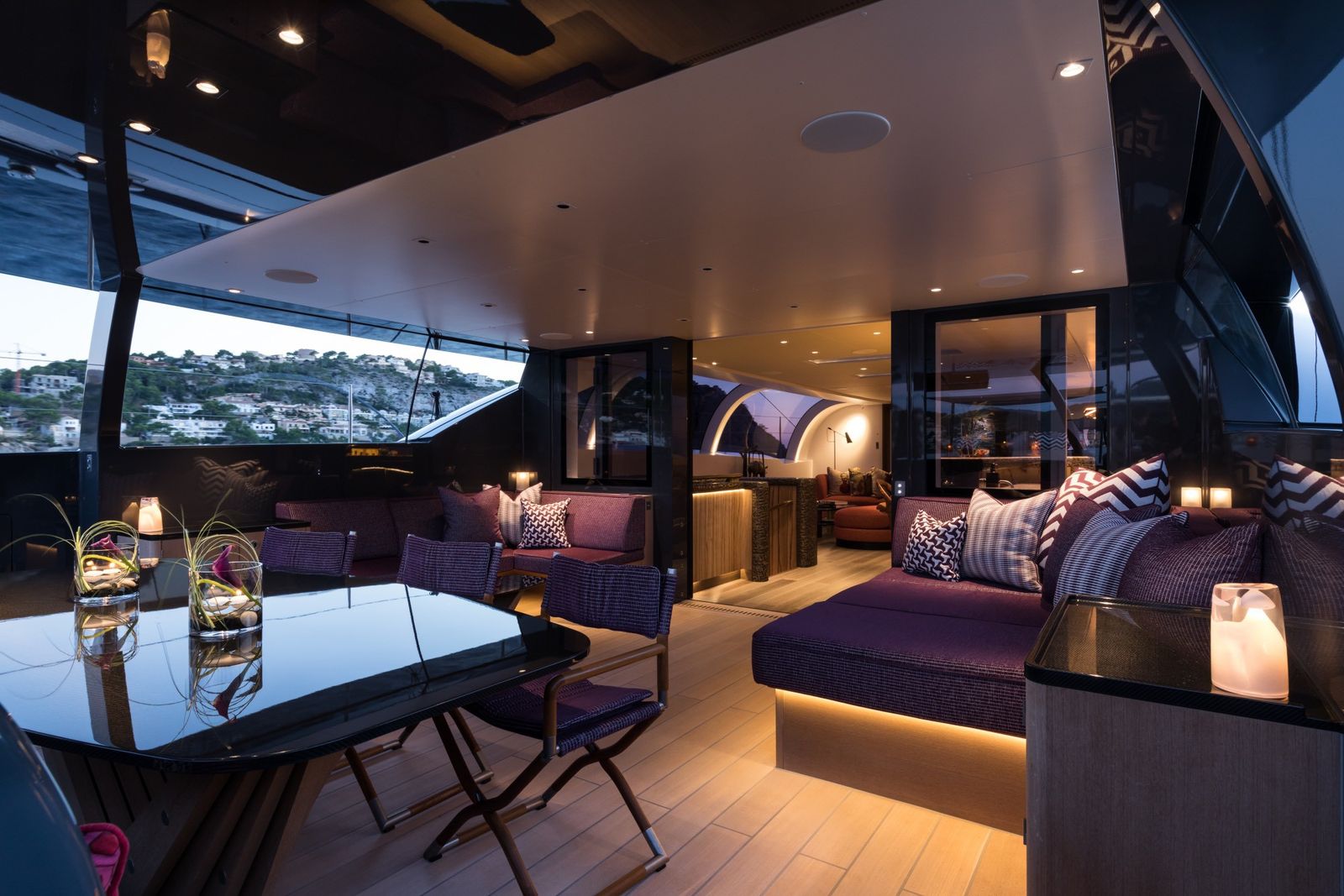 The interior design is the work of Rick Baker and Paul Morgan. The signature furniture pieces are signed by Francis Sultana.
A few steps descend from deck level to the informal yet luxuriously appointed guest cockpit, an intimate and sheltered outdoor space for reading and relaxation, playing games or simply watching the marine world around you. The deck house overhang, together with electrically-powered retractable windbreakers, ensures a comfortable environment in all conditions.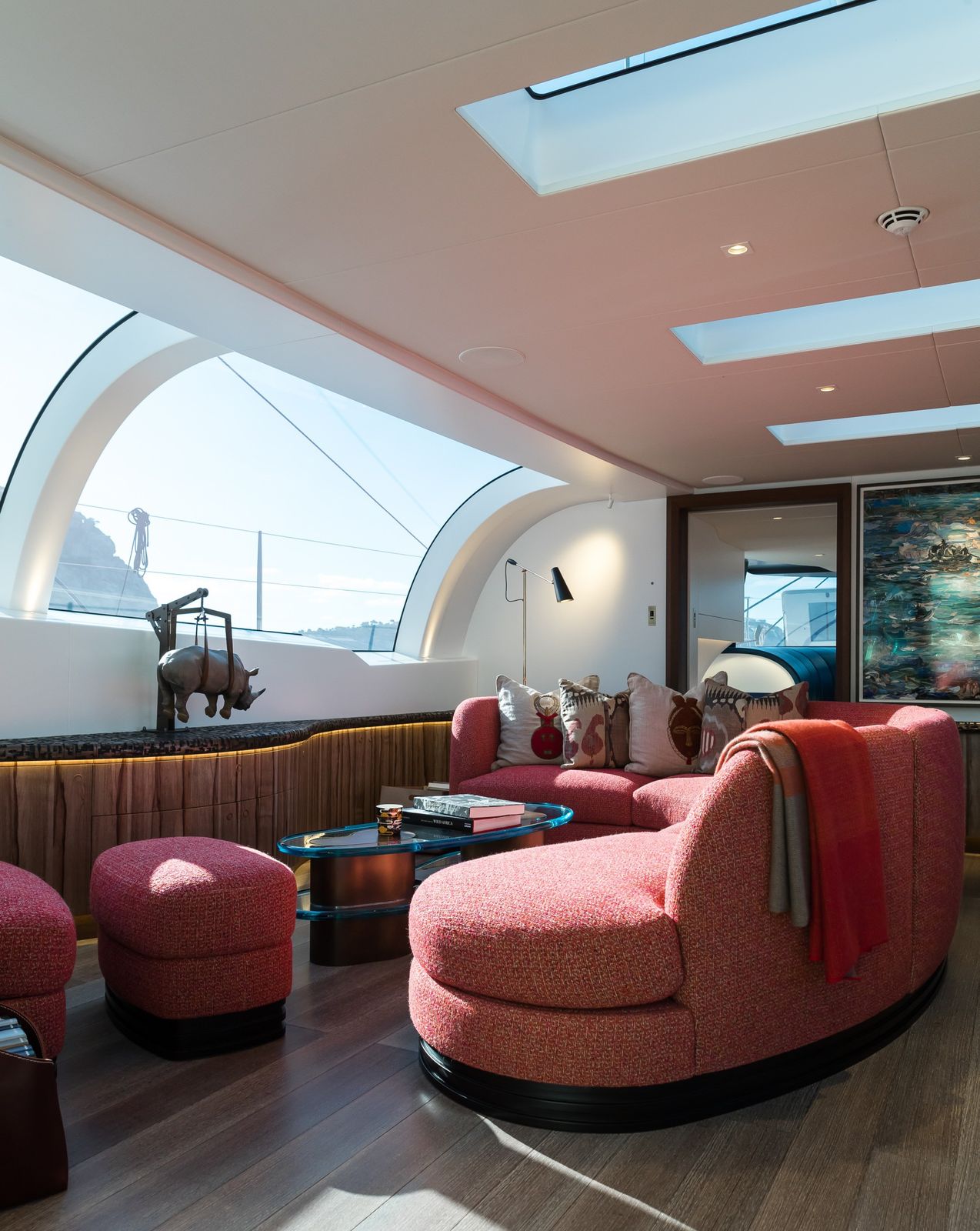 Seamless sliding doors by Rondal give access to the deck house interior, presenting the first indication of the exciting materials, colours and finishes to be found throughout the interior.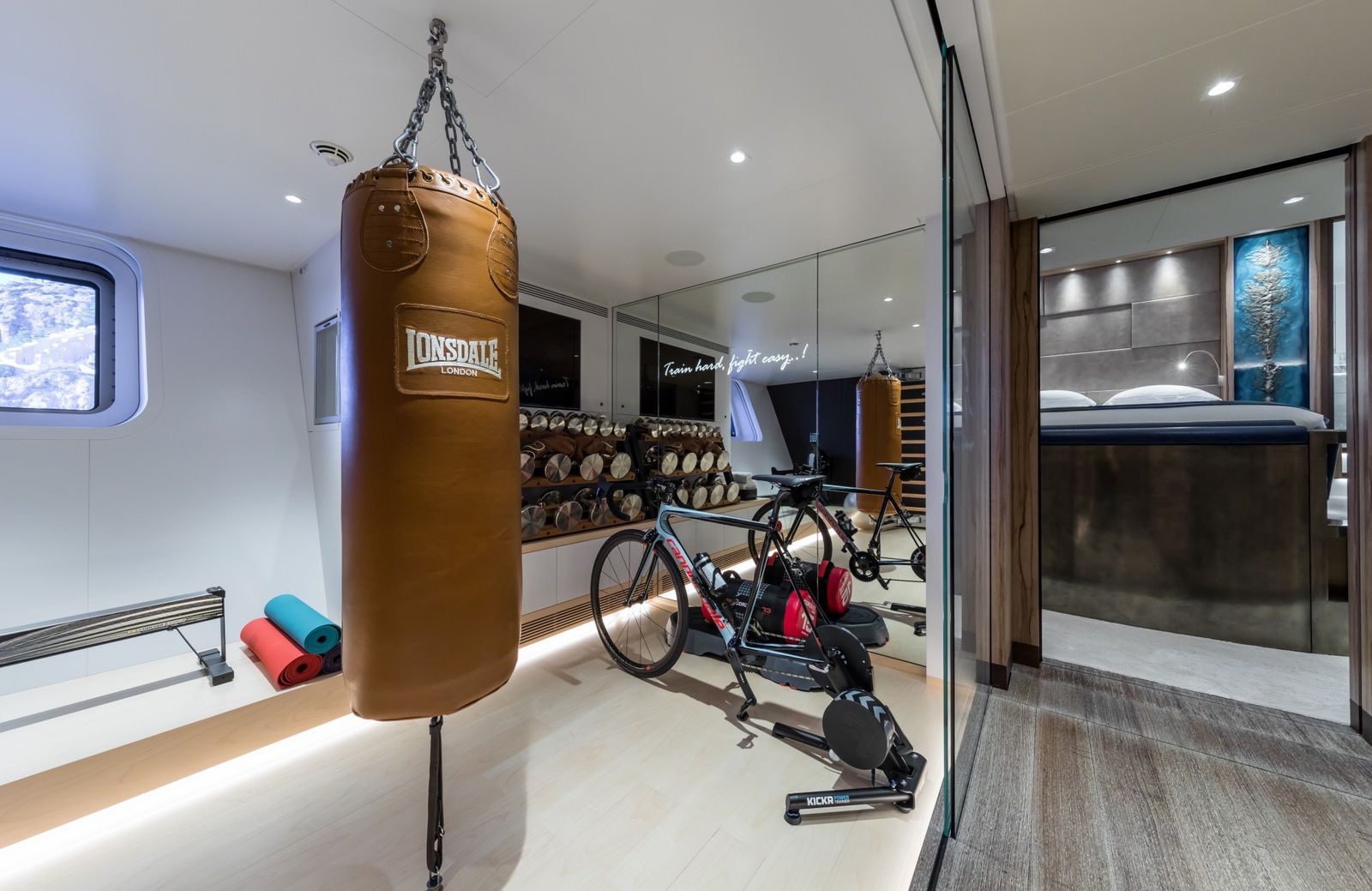 To starboard there is a bar and dining area while, to port, there is informal seating with coffee tables and, when required, a pop-up television.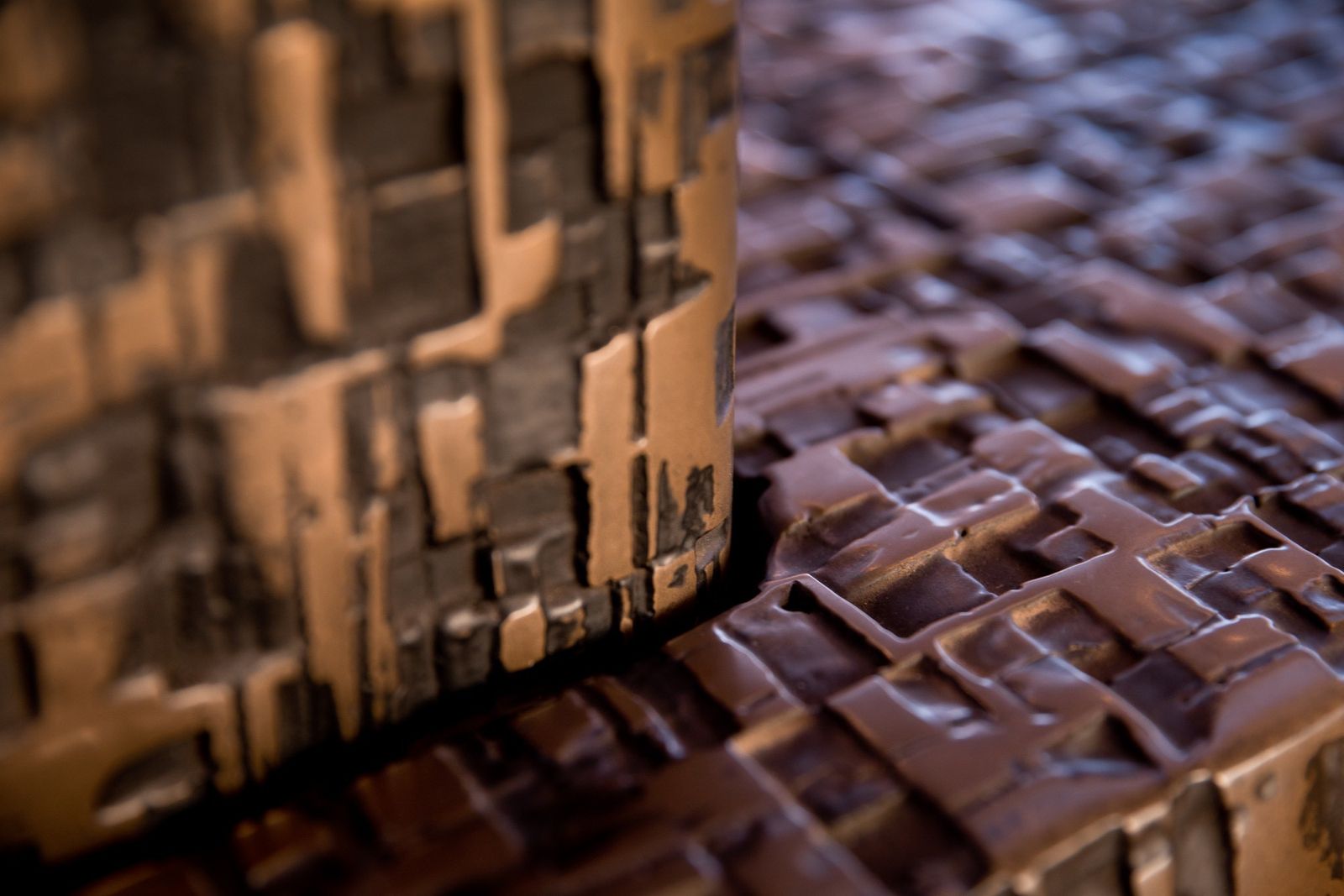 Owners' and guest accommodation is accessed via a curving staircase from the deck house to the guest lobby area. There is a twin guest cabin with spacious bathroom to port and a double guest cabin featuring a Japanese bath to starboard. Both feature high quality exotic veneers, marbles and resin finishes. Large, rectangular ports offer superb natural lighting by day.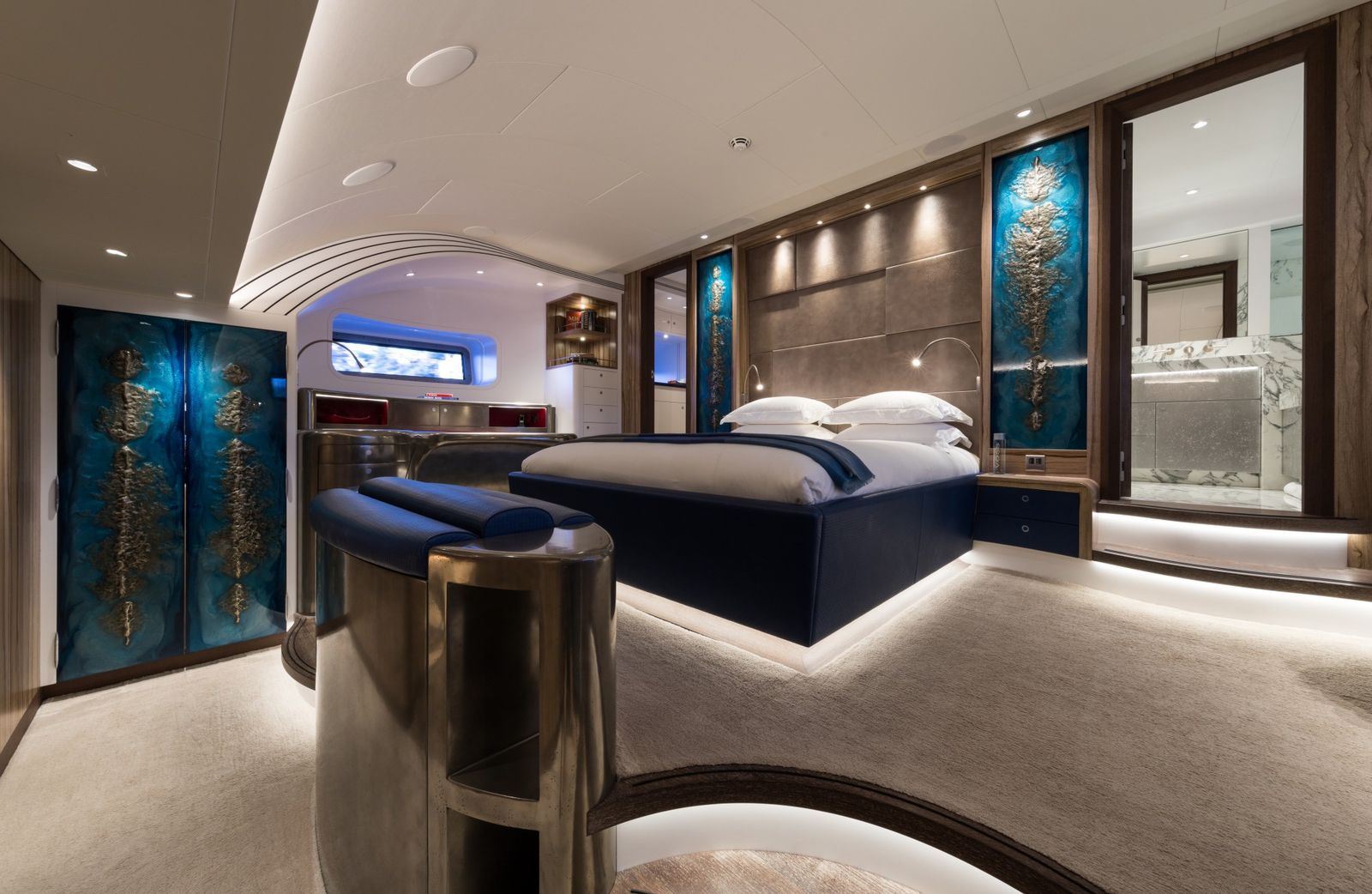 The owners' suite, aft, comprises a full-beam stateroom with bespoke built-in furniture, twin doors to an enormous bathroom, a spacious study with its own bathroom and a large gym with an opening hull port in the topsides. This area, too, is flooded by natural light.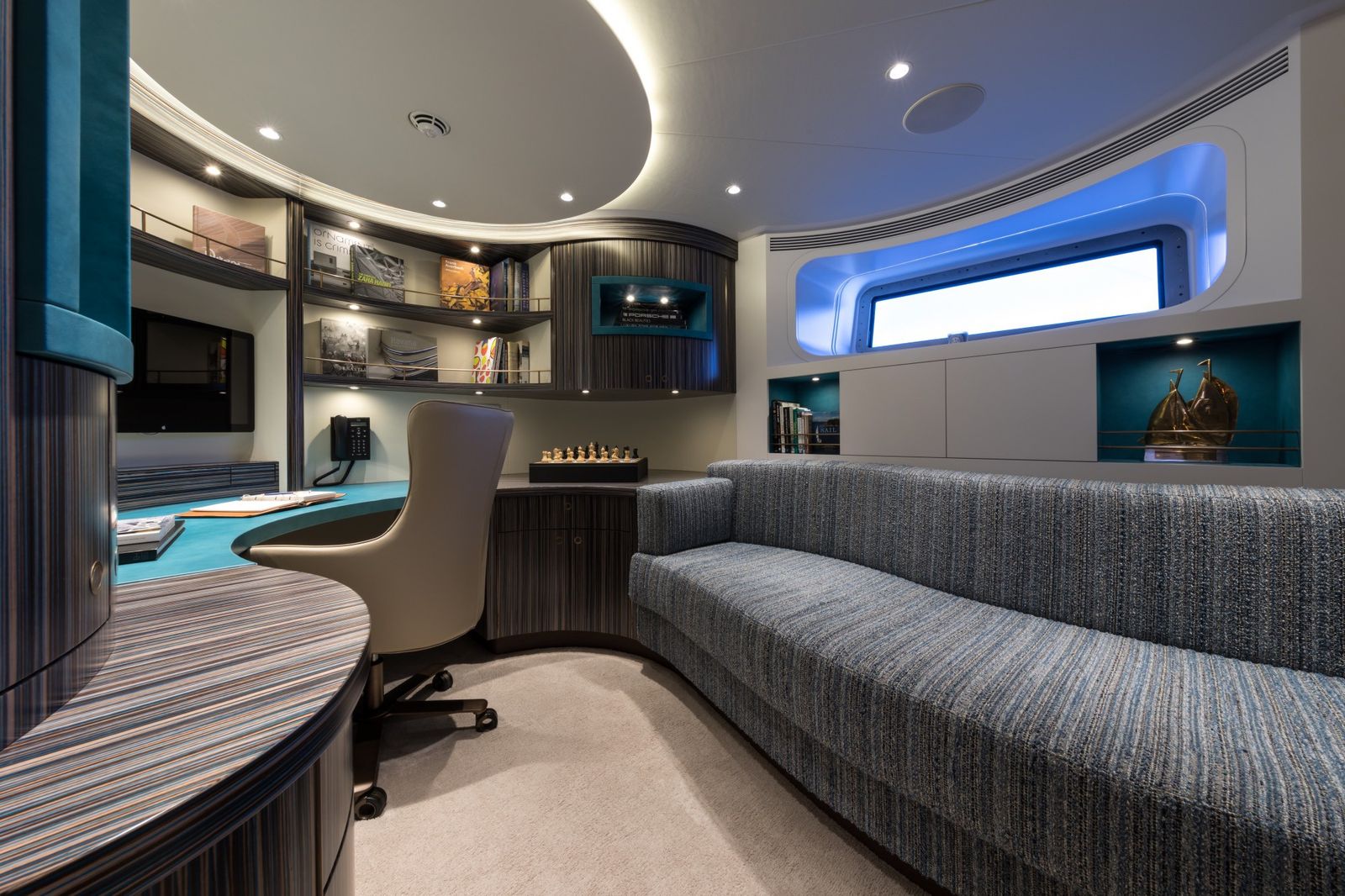 The audio-visual system was thoroughly tested a full year prior to delivery. The owner was very specific about the configuration, asking iPad users to interface with the custom setup supplied by Tijssen Elektro based on Royal Huisman engineering. With 48 terabyte storage by Kaleidescape and a vault for 320 disks, there is access to a wealth of music and movies. The owner also wished to view his favourite TV channels without relying on VSAT, so a special configuration bundles 3G and 4G broadband while close to land, via a booster mounted on the masthead.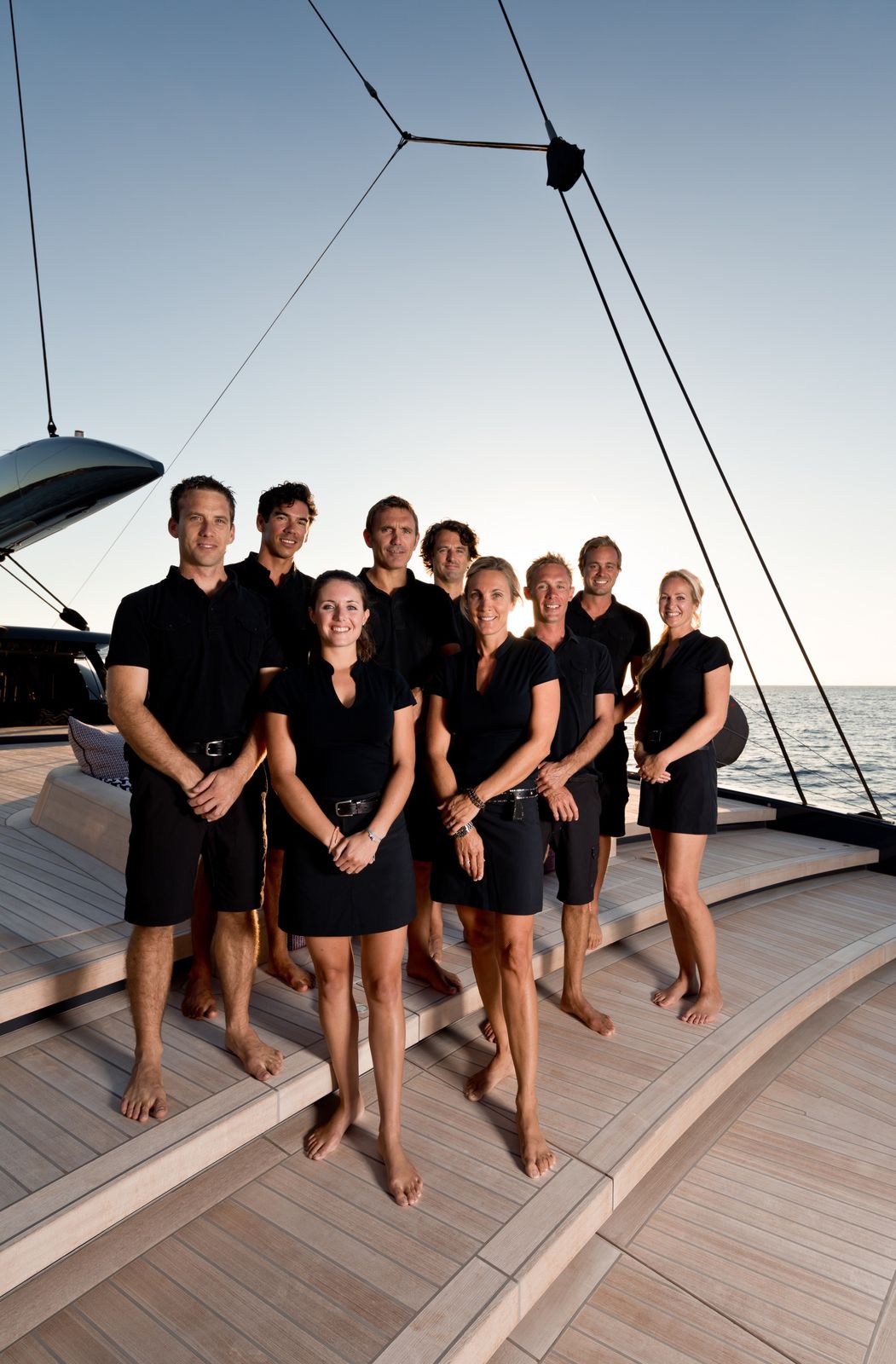 There is accommodation for up to nine crew in six crew cabins. All enjoy high quality cabin fit-outs with full ensuite bathroom and shower facilities. Aft of the accommodation there is a bright, spacious and professionally equipped galley to starboard, open to the crew mess on portside. Just aft of the crew mess is a large laundry. Stairs from the adjacent deckhouse pantry give direct access to the service areas.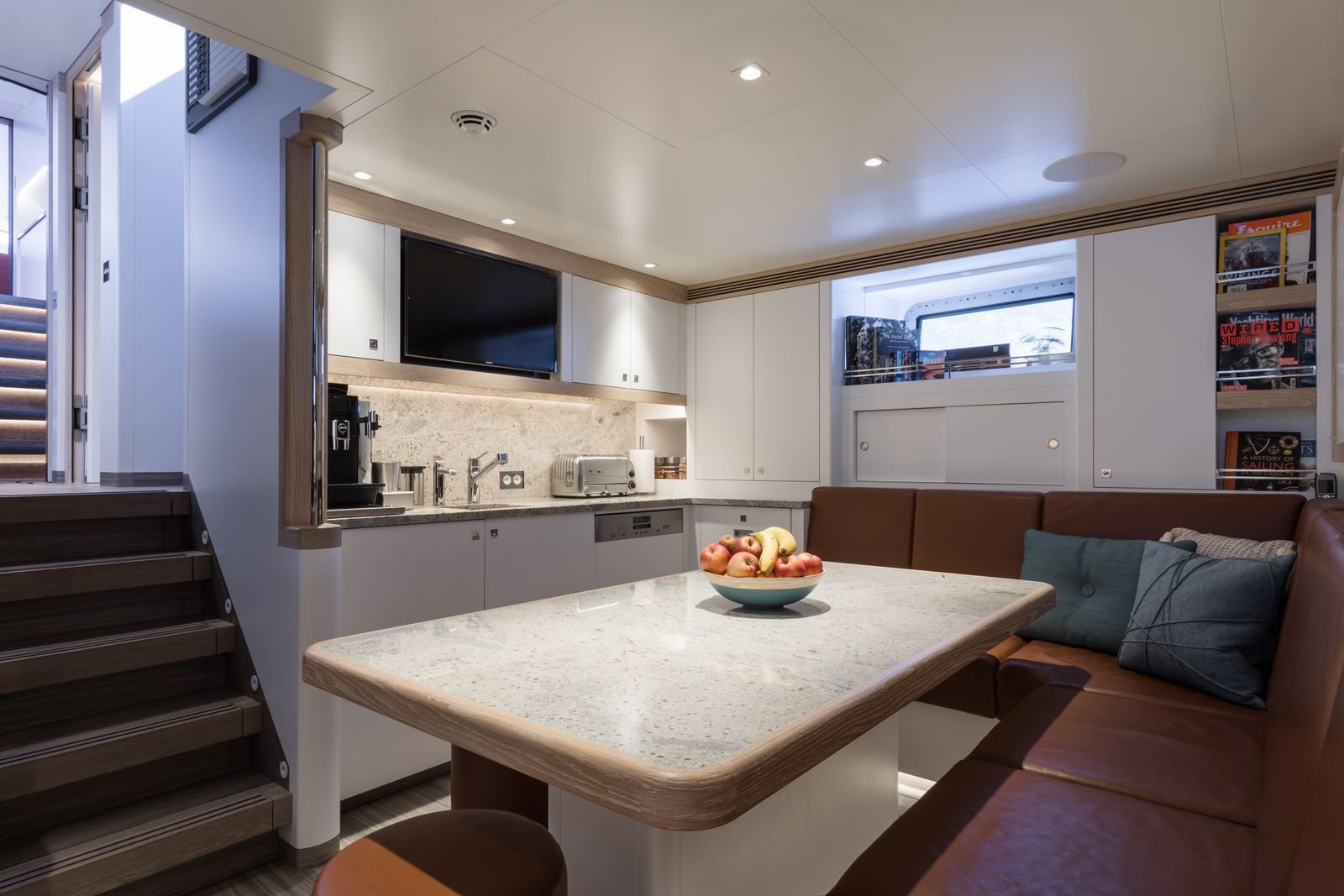 Besides the sails additional power is provided by a single MTU 8V 2000 M72 diesel engine delivering 966 hp. Cruising at 12 knots, she can reach a maximum range of 4,000 nautical miles.
S/Y Ngoni was launched in April 2017.
Main Specifications
Naval architect: Dubois Naval Architects
Exterior stylist: Dubois Naval Architects
Interior design: Rick Baker Ltd.
Lighting design: The Light Corporation
Project management: Godfrey Cray Maritime Ltd and Captain Iain Cook
Builder: Royal Huisman
Year of delivery: 2017
Length: 58.15m / 190.3ft
Length Waterline: 51.20m / 167.9 ft
Beam: 9.54m / 31.3 ft
Draft (keel up): 5.30m / 17.4 ft
Draft (keel down): 8.10m / 26.2 ft
Displacement: 353 tons / 778,231 lbs
Gross tonnage: 396 GT
Hull speed: 17 knots
Full air-draft: 75m / 247ft