These are the largest private megayahts that roam the seas.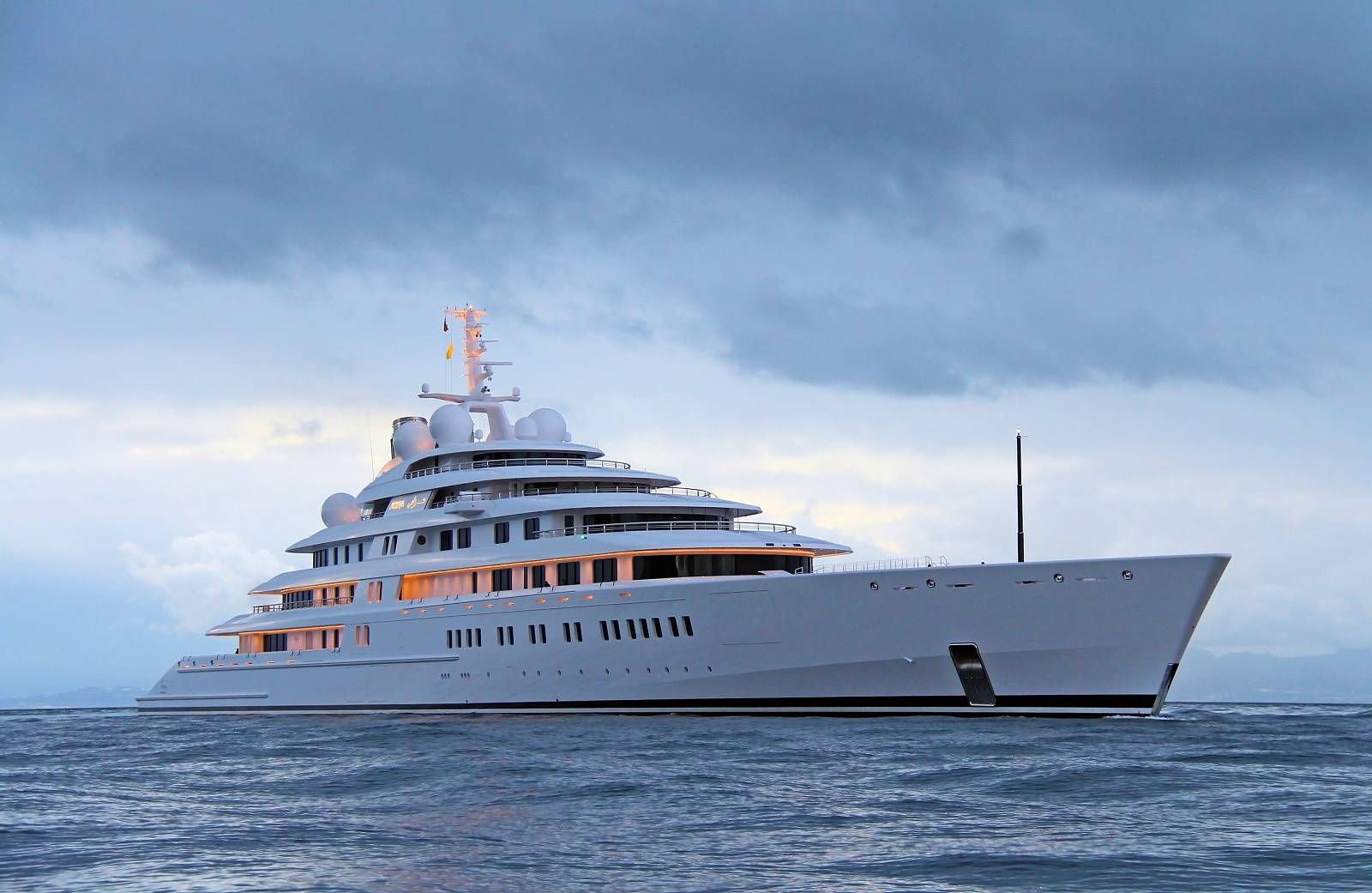 Azzam (180 meters)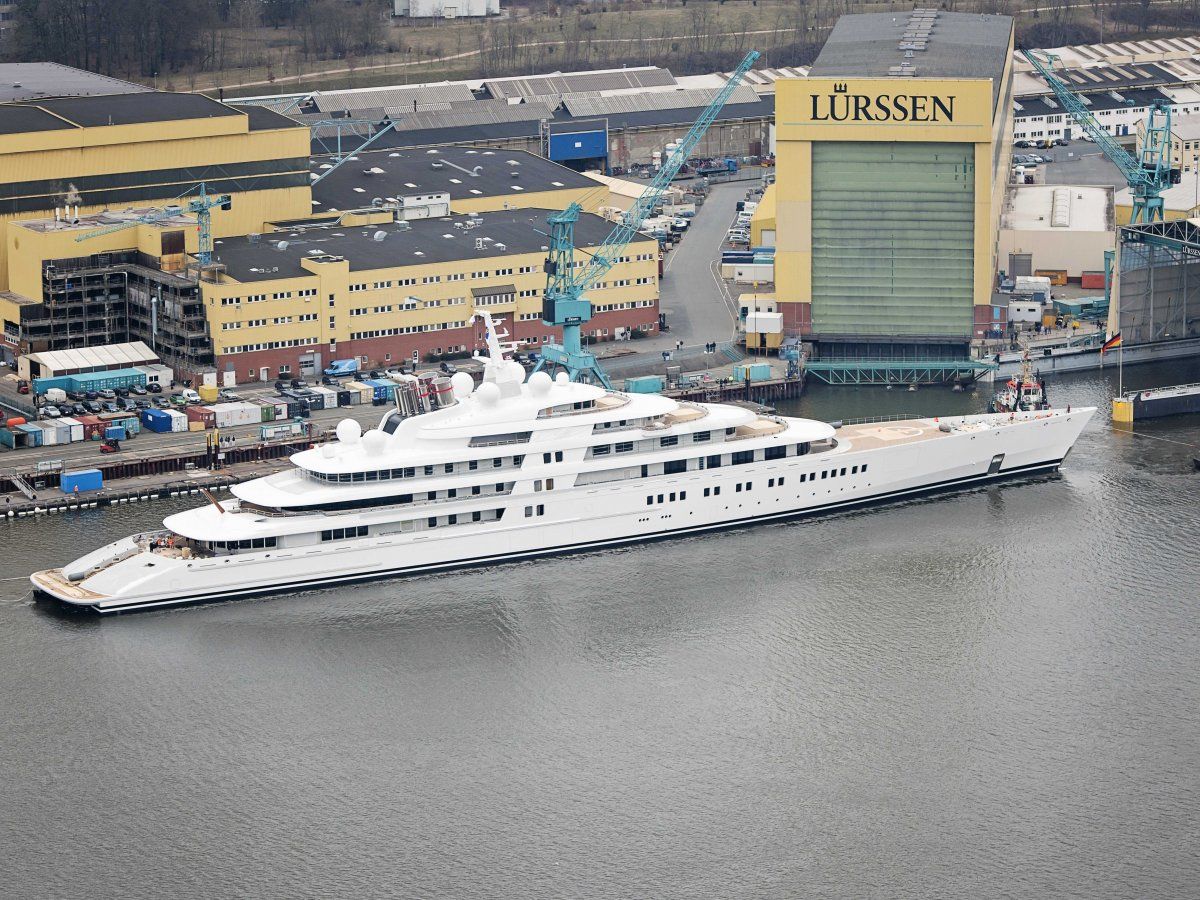 Azzam is now the biggest yacht in the world. It was proudly built by Lurssen Yachts, which has been involved in the building of six out of top ten largest yachts. The specs of this ship are being kept secret. We don't know who the owner is, but is rumored that it was built for a member of royal family of Abu Dhabi. The propulsion system is an innovative water-jet with two fixed drives and two directional. This system can push the huge yacht to a staggering speed of 31.5 knots.
Eclipse (162.5 meters)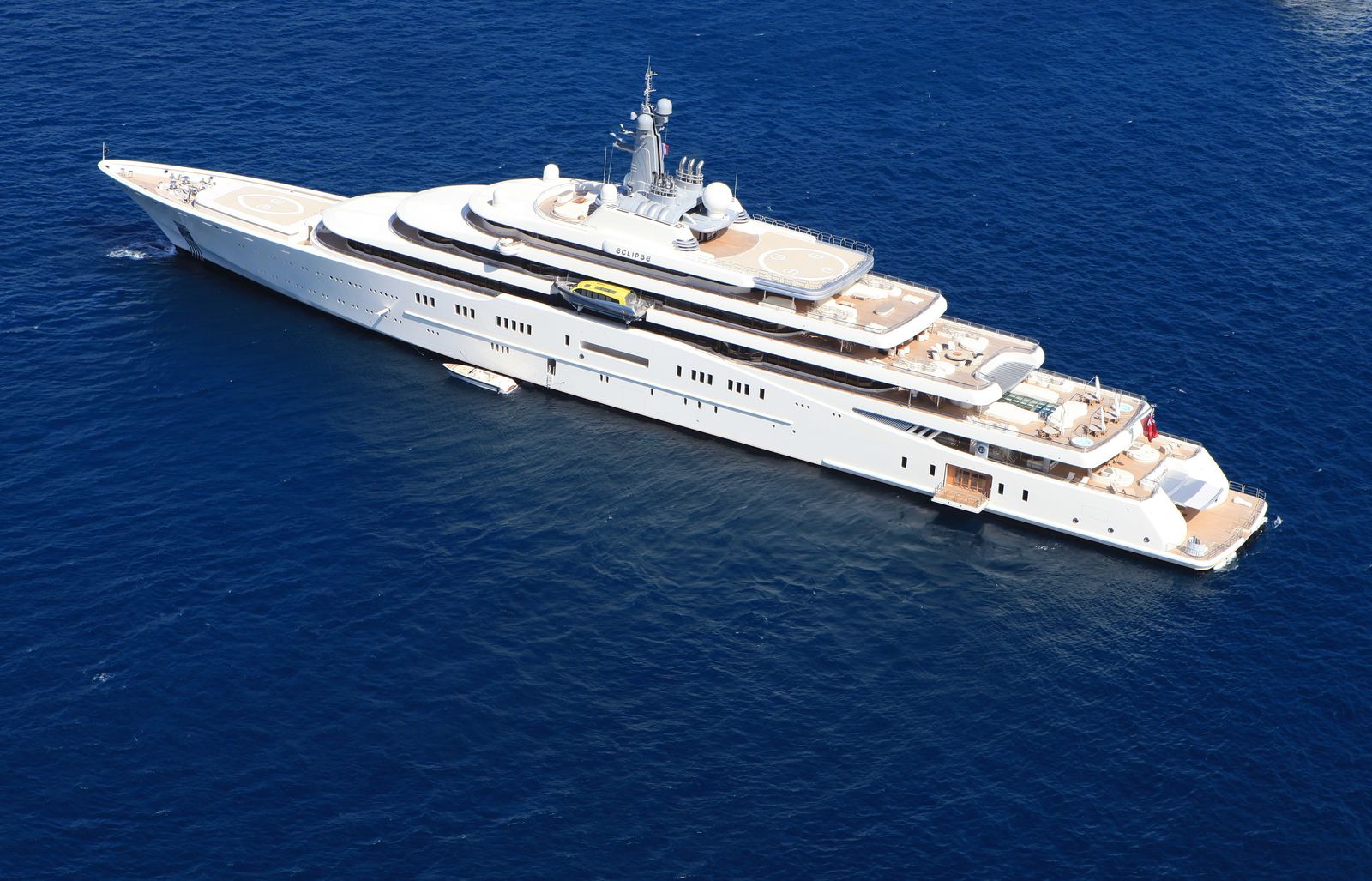 Eclipse is the second largest yacht in the world. It needed five years of planning and construction in the Germans' yards of Blohm+Voss in Hamburg. Launched in 2010, it held the title of biggest yacht in the world for a while. Eclipse features a diesel-electric propulsion system with rotating Azipod drives. The owner can enjoy his personal 56 meters deck, and alsoa wonderful interior created by the team of Terence Disdale. There is also a 16 meter long swimming pool, the largest on any yacht. The yacht car accommodates no less than three helicopters. The yacht is owned by Russian billionaire Roman Abramovich.
Dubai (162 meters)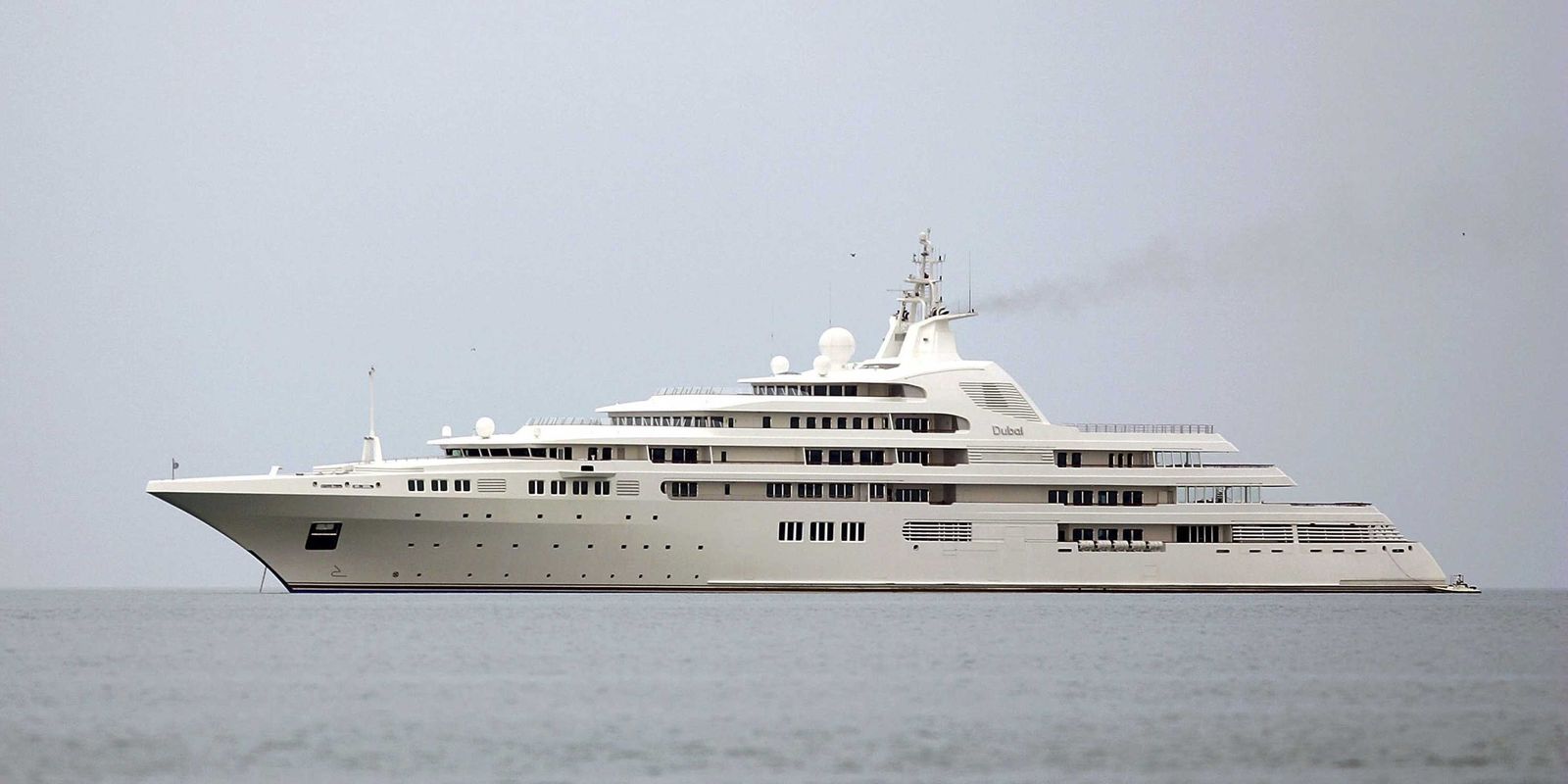 We are now in the top 3 largest yachts in the world. Standing proud at number 3 is a Blohm+Voss built yacht. The vast 162 meters yacht was originally commissioned by Prince Jefri of Brunei. The project was halted in 1998 with just a bare hull and partially complete superstructure. It was sold to Dubai government and completed in 2006 by Platinum Yachts. Named Dubai, the vessel is the Royal Yacht of Sheik Mohammed bin Rashid al-Maktoum of Dubai. It can accommodate 24 guests in luxurious conditions. It has an owner suite, five VIP suites and six guests' suites. The list of facilities is long: swimming pool, barbecue area, cinema, discothèque, helicopter platform, fitness area, garage for a submarine and a vast collection of water toys.
Al Said (155 meters)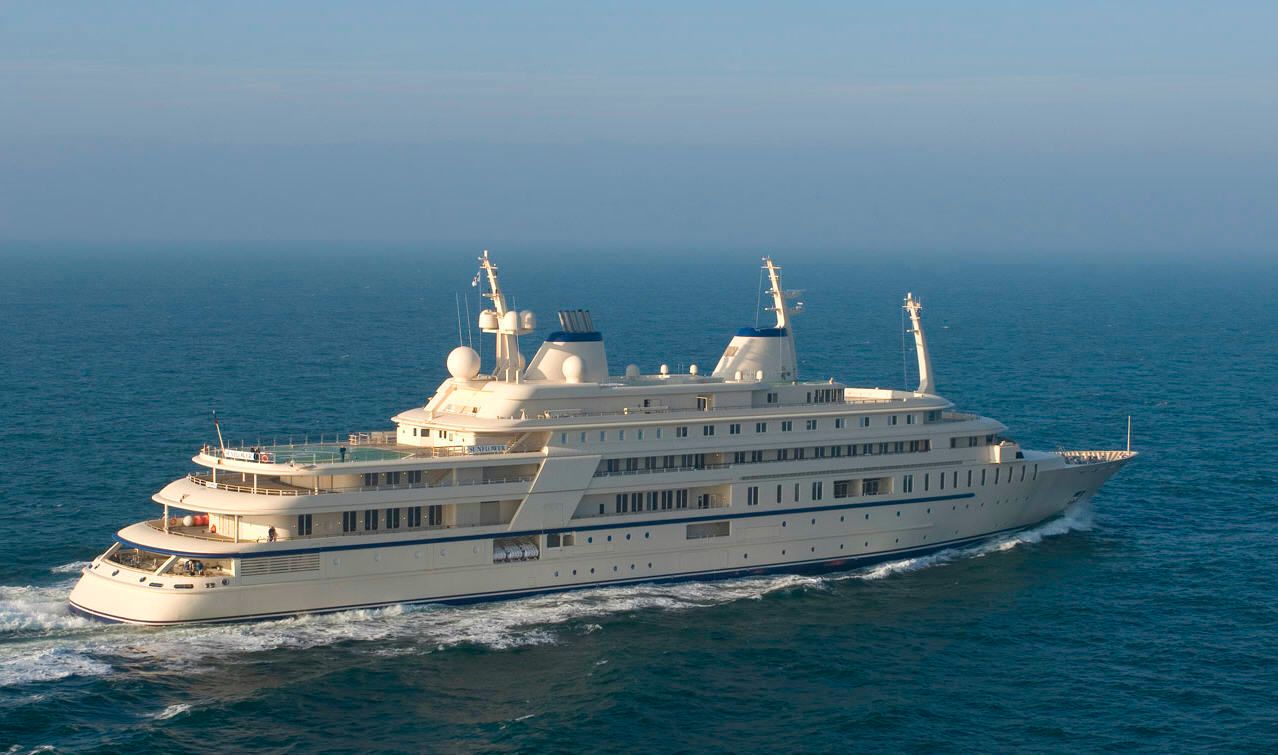 Impressive and huge, Al Said is a motoryacht with a lot of secrets. It was built by Lurssen under the codename Sunflower and launched in 2008. It is owned by the Sultan of Oman and sails under Omani flag. Home port is Muscat, Oman. Al Said has a top speed of 25 knots and needs a crew of 150 to operate. The interior design is the work of Espen Oeino and features a concert hall that can accommodate a 50 strong orchestra. 65 guests can travel aboard this impressive ship.
Topaz (147.25 meters)

Topaz was launched in 2012, with the sea trials completed in the month of August, 2012. It is a Lurssen product, being the third largest yacht built by the German yard. Not many things are known about this vessel. It belongs to United Arab Emirates client, although it sails under a Cayman flag. Exterior styling is signed by Tim Heywood, interior design by Terence Disdale.
Prince Abdulaziz (147 meters)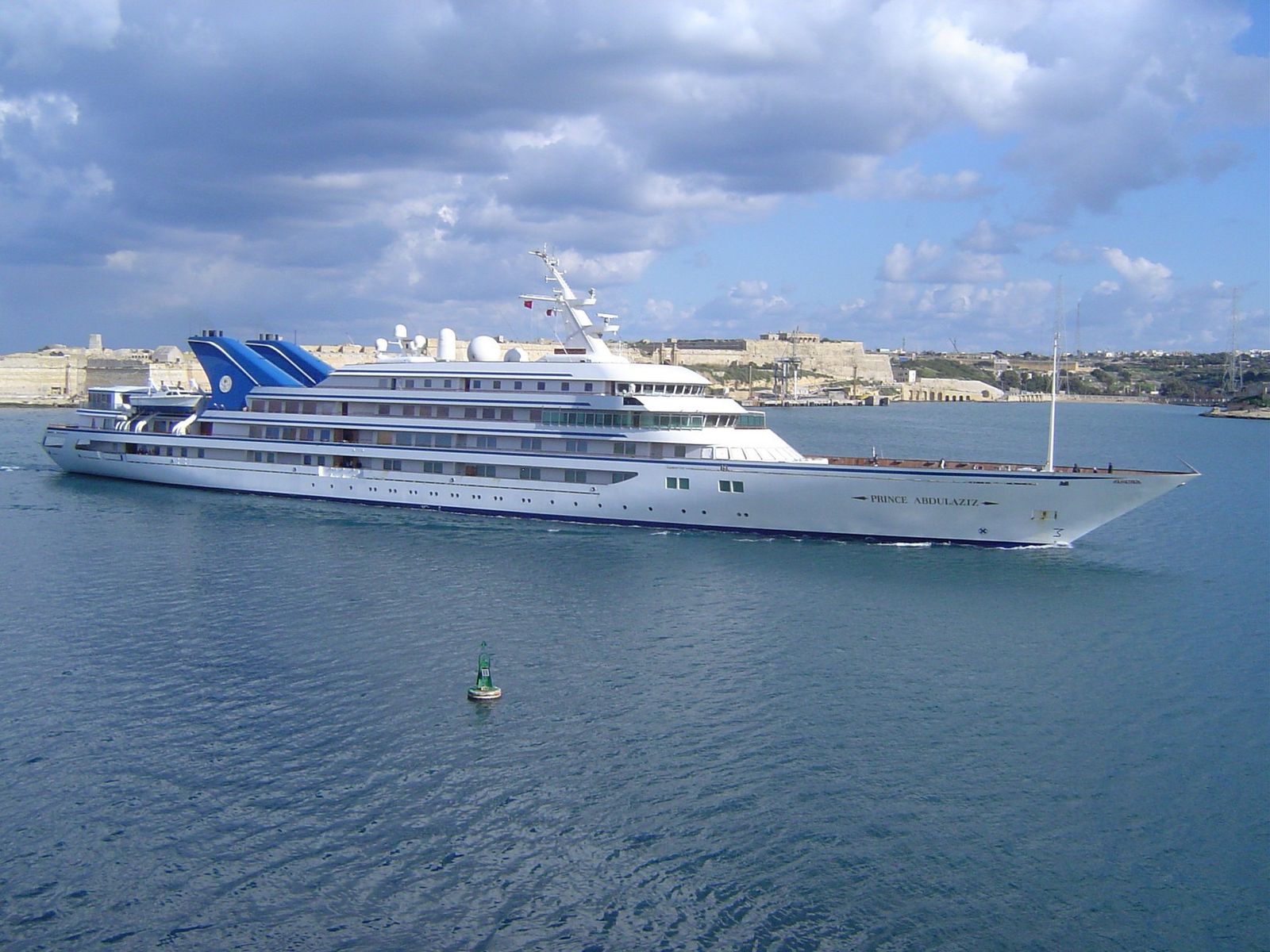 Prince Abdulaziz was commissioned in 1984 to serve as the Royal Yacht for King Fahd of Saudi Arabia. It was later inherited by King Abdullah. The vessel was built by Danish shipyard Helsingor Vaerft. The cost was a reportedly $184m, a huge amount at that time. The interior is designed by David Hicks and has a notable feature. The large lobby on the main deck is said to be designed to mimic that of the Titanic. It also features a fully equipped hospital, a mosque and a cinema. The yacht is manned by a crew of 65. There are also rumors that the ship has systems that include surface-to-air missiles, but this fact is unconfirmed.
El Horriya (145.7 meters)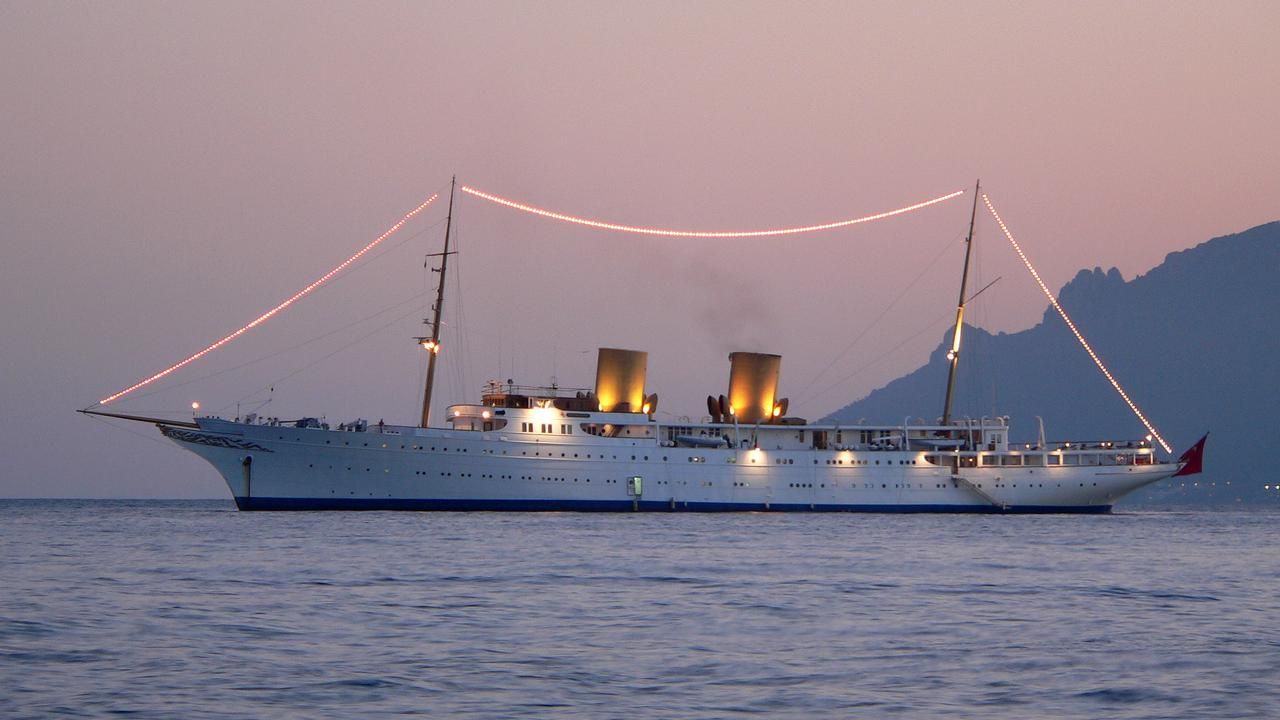 El Horriya is a different breed of yacht. In fact, it's a classic vessel, the largest classic yacht in use in the world. It was built in 1865 by Samuda Brothers in the United Kingdom for the Ottoman governor of Egypt, Khedive Ismail, and it was present at the opening ceremony of the Suez Canal in 1869. In 1872 it was lengthened by 12.1 meters and the original paddle wheels propulsion was removed. Since then it has seen a major rebuilt in 1950. In the 70's the ship was used as a museum, but in 1992 it was made seaworthy again. Today, El Horriya is the Presidential Yacht for the Egypt Republic. It's rarely used, and it can be seen berthed in the port of Alexandria, where it is maintainedby the Egyptian Navy.
Yas (141 meters)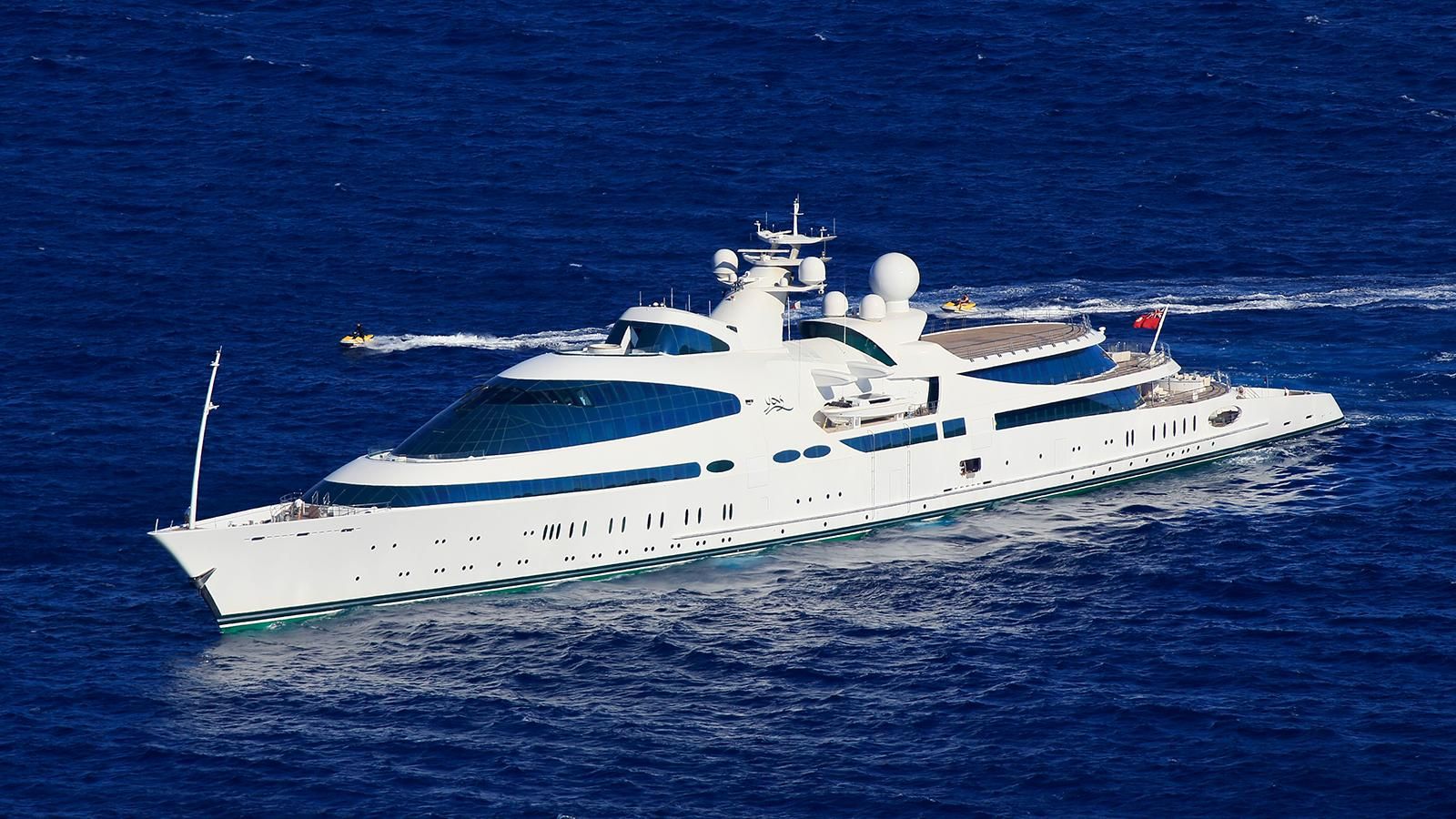 With only one meter longer than Ocean Victory, Yas is a very special vessel. Launched in November 2011 by Abu Dhabi MAR, Yas was built in Abu Dhabi using the steel hull of a 1978 Dutch-built navy frigate. The old ship was completely modified and new machinery was added, along with new systems and a luxury interior. It is estimated that the 141 meters Yas can accommodate 60 guests and it needs a crew of 56 to operate. The superstructure is manufactured from advanced composites and glass. The odd silhouette was inspired by the shape of a dolphin. For power, Yas uses two MTU diesels and has a top speed of 26 knots.
Ocean Victory (140 meters)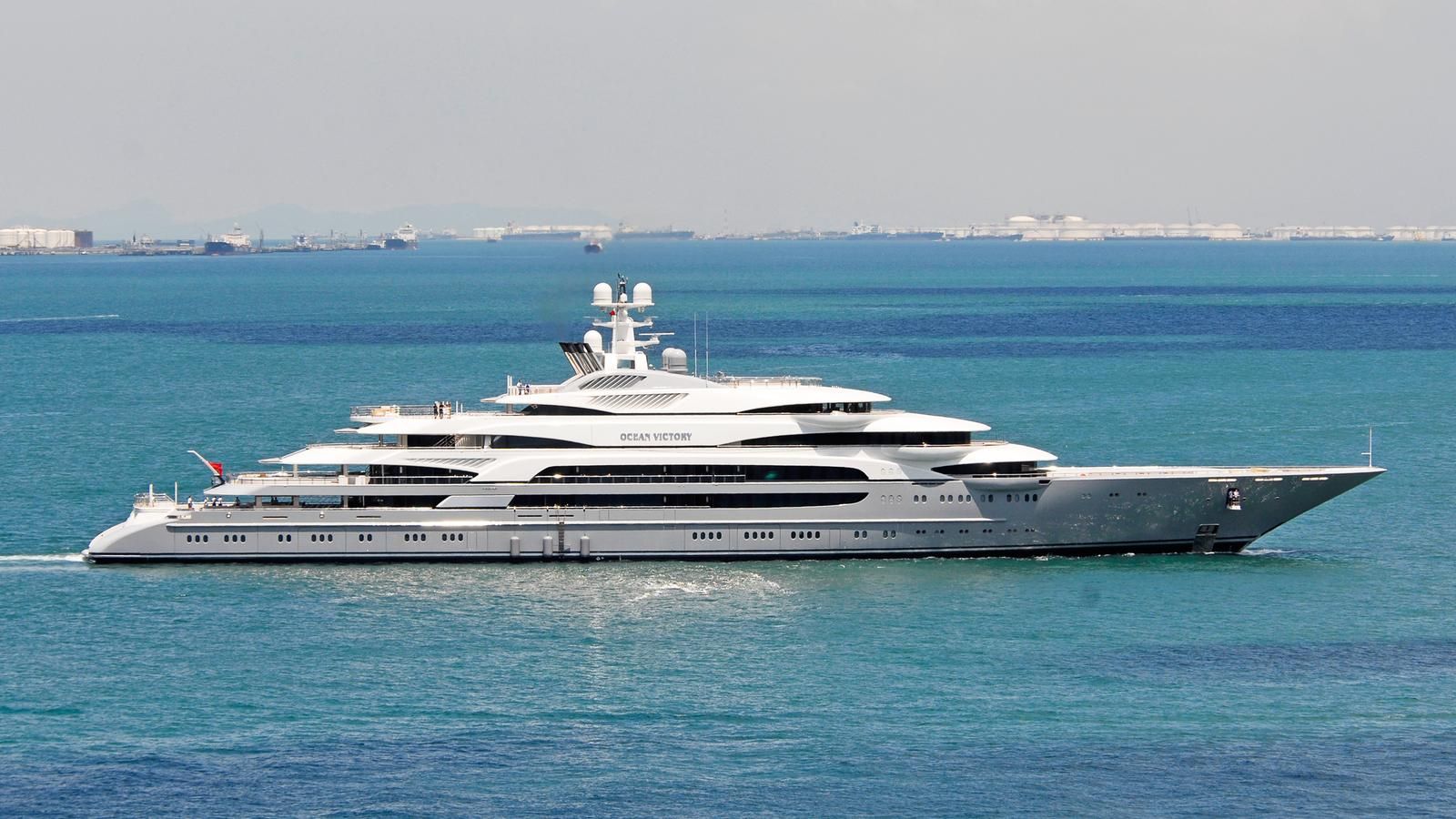 Ocean Victory is the number nine in this top 10 of biggest superyachts in the world. It was built by Muggiano shipyard in Italy, a Ficantieri owned business. It has seven decks and the exterior design is signed by Espen Oeino. The interior is the work of Alberto Pinto and Laura Sessa. Ocean Victory features six pools of up to eight meters in length. It also has dockage capability for a 14 meter tender. The building of Ocean Victory has begun in 2010 and the vessel was launched in 2014.
Al Salamah (139.3 meters)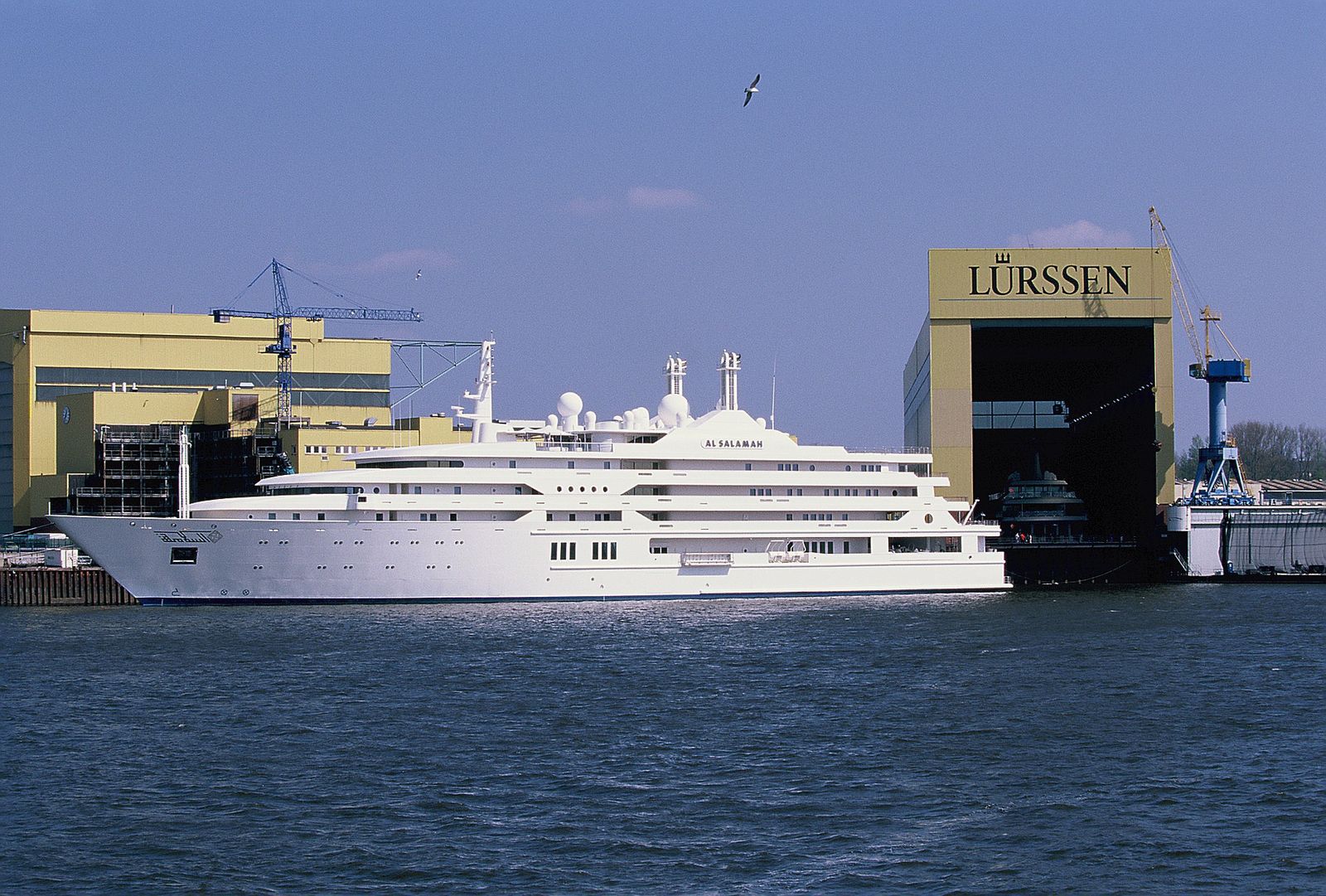 Al Salamah was built in 1999 by a consortium of Lurssen shipyard in Bremen and HDW in Kiel, Germany. Standing at almost 140 meters (139.3 to be exact), with a beam of 23.5 meters, it can also reach a reported speed of 21.5 knots. Interior and exterior styling is by Terence Disdale Design from London. Al Salamah was owned by Prince Sultan bin Abdul Aziz of Saudi Arabia, son of the late King Fahd, Governor of Riyadh. He is Saudi Arabia's Defense Minister and the nation's Crown Prince. Al Salamah was refitted by Lurssen in 2007.
Update: Megayacht Dilbar has also joined the ranks of the top ten biggest pleasure vessels in the world. Standing at 156m long, she enters the top 10 at number 4. Formerly known as Project Omar, megayacht Dilbar is another vessel by Lurssen shipyards.