This is fast!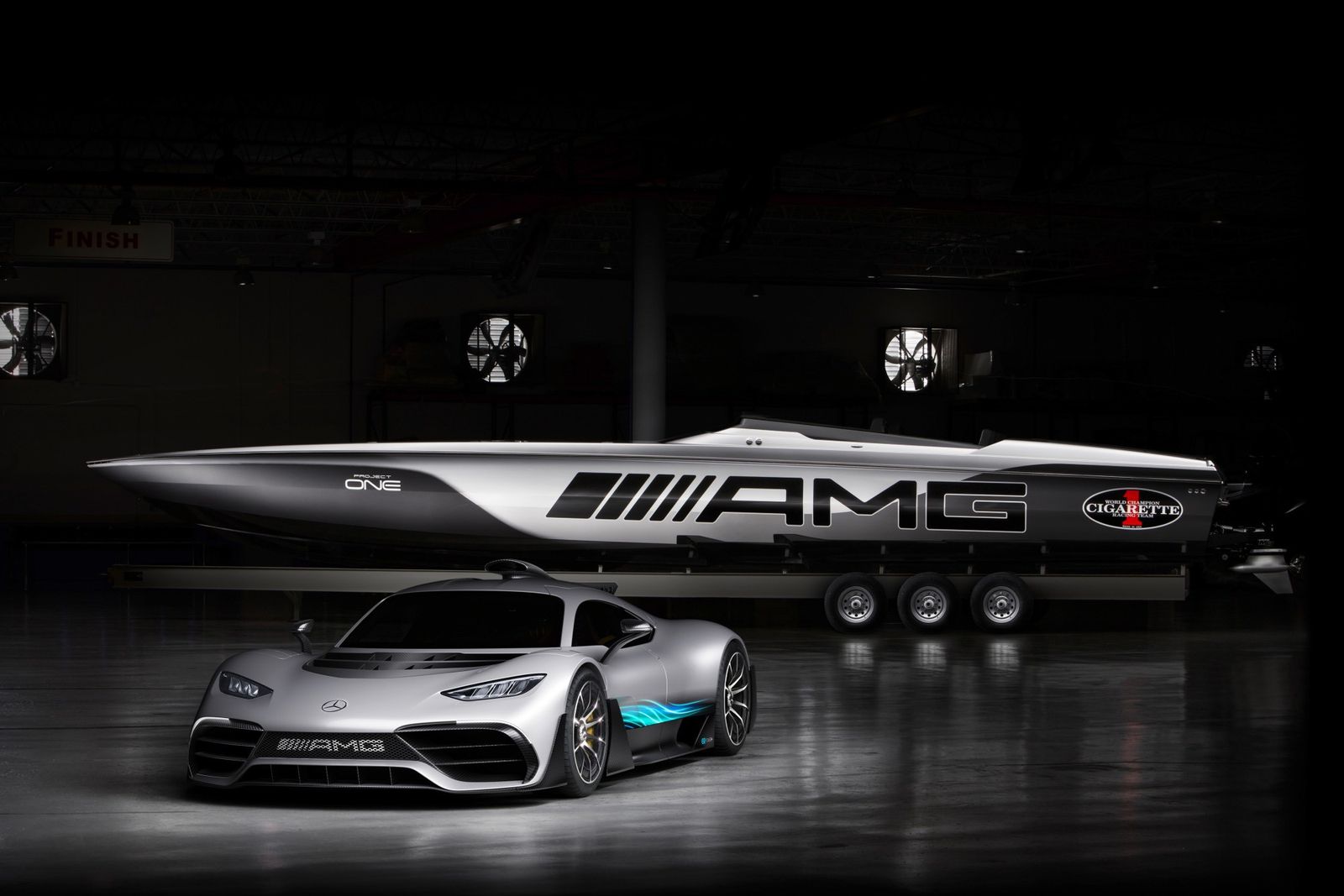 Mercedes-AMG and Cigarette Racing mark 11 years of collaboration with the debut of the most impressive performance boat ever constructed by the iconic Miami-based boat manufacturer.
Designed from the ground up using the latest technology, the Cigarette Racing 515 Project One was inspired by the highly anticipated Mercedes-AMG Project One supersports car.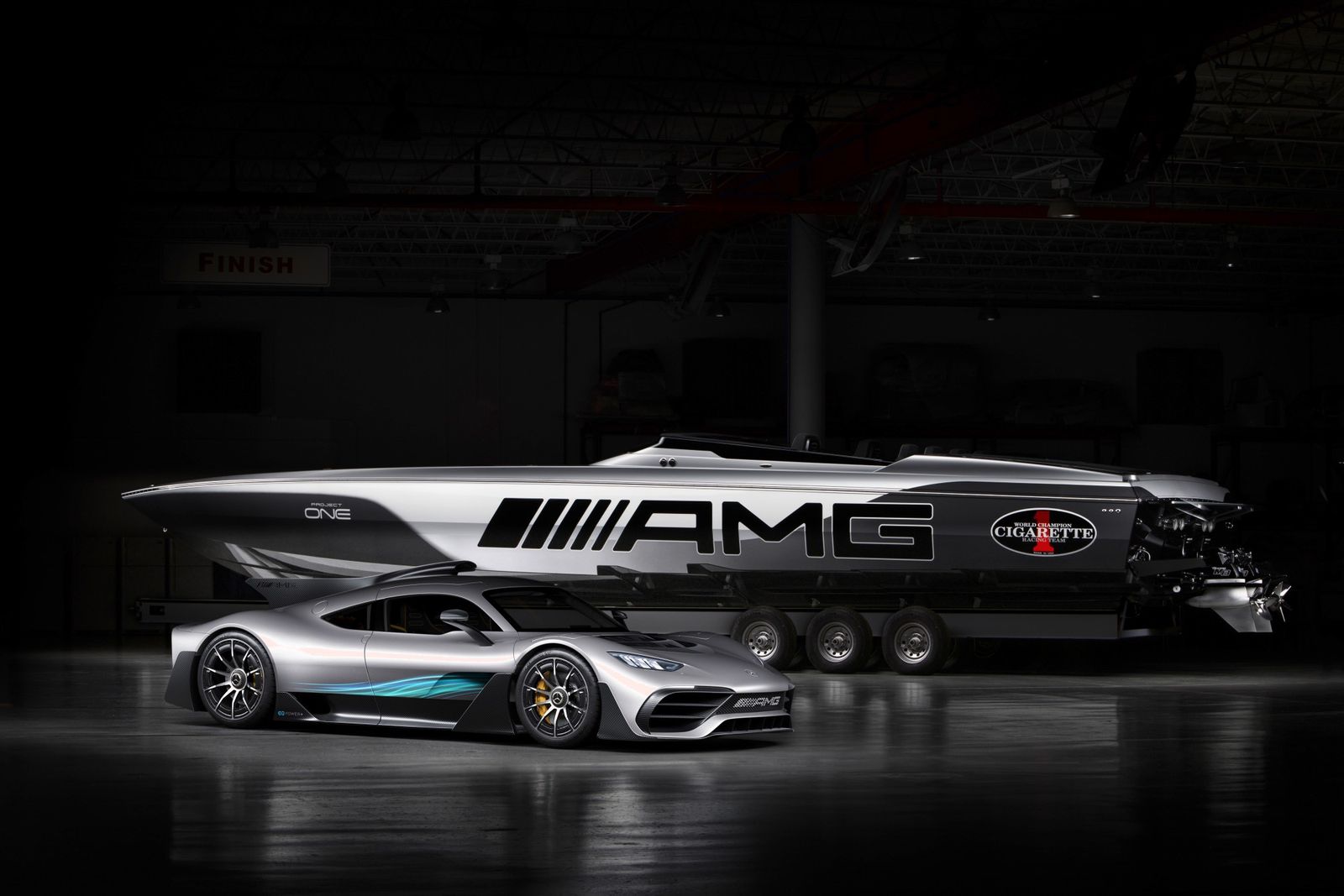 This is the ninth special edition speedboat created from the partnership between Mercedes and Cigarette Racing. The $2 million superboat has 3,100 hp and can hit a top speed of 140 mph. The look and color scheme of the boat is based on the Mercedes-AMG Project One hybrid supercar.
The new boat offers an increase of over 30% greater surface area when compared to the existing 50' Marauder, while still providing similar performance. The boat's deck is constructed completely of carbon fiber to reduce the total weight and lower the center mass of the boat. Carbon fiber is also used for the inner structural laminate of the hull, forward bulkheads, cabin liner, engine hatch, consoles and storage hatches to significantly reduce the overall weight.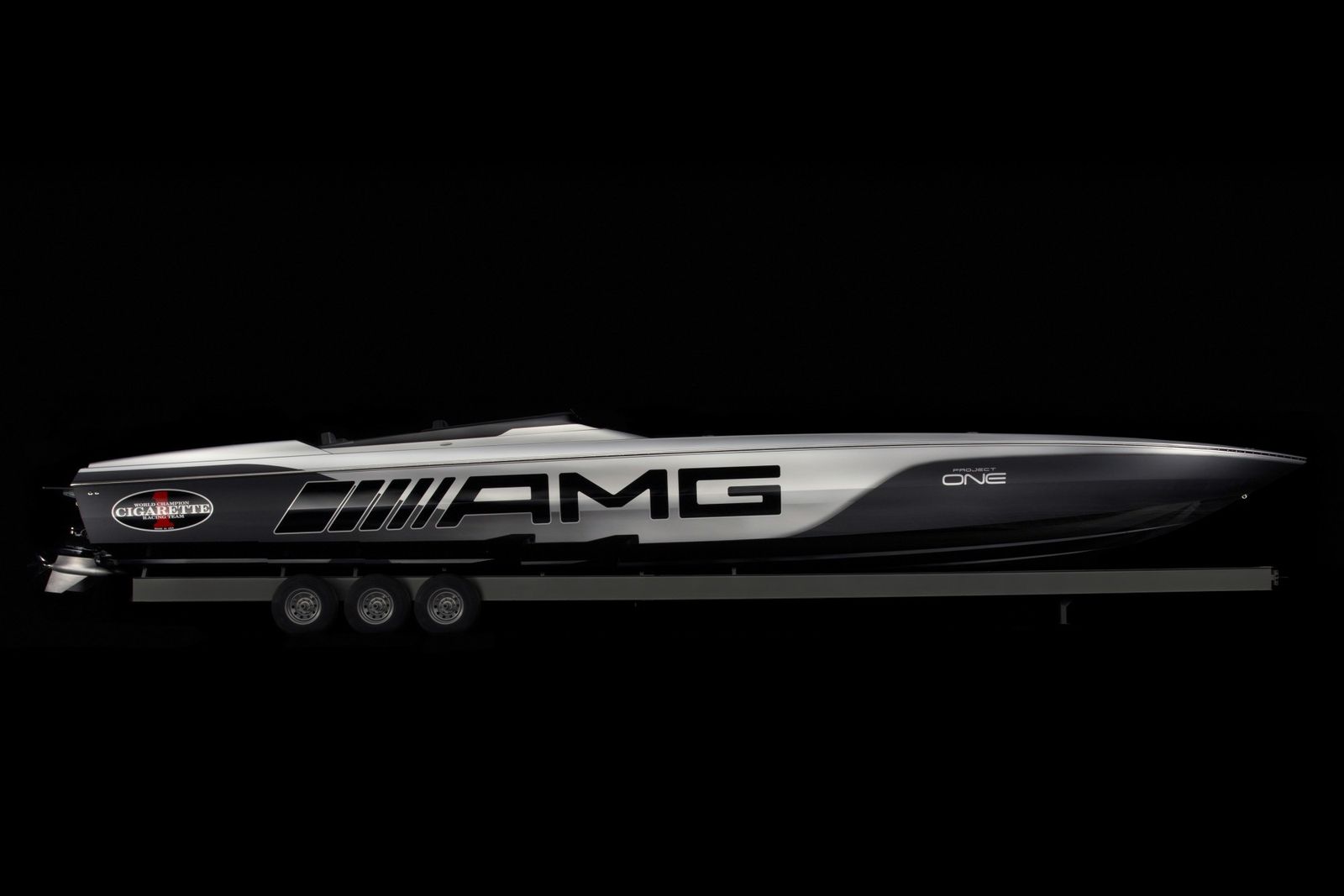 "For 11 years, Cigarette Racing has been our trusted partner that has allowed us to extend our likeminded core performance principles from the land to the water," said Tobias Moers, Chairman of the Board of Management of 
Mercedes-AMG GmbH. "By directly translating Formula 1 technology from the track to the street, the Mercedes-AMG Project One is our most ambitious and awe-inspiring vehicle yet. It is incredible to see our vision reimagined for the water in such an impressive and highly compelling form."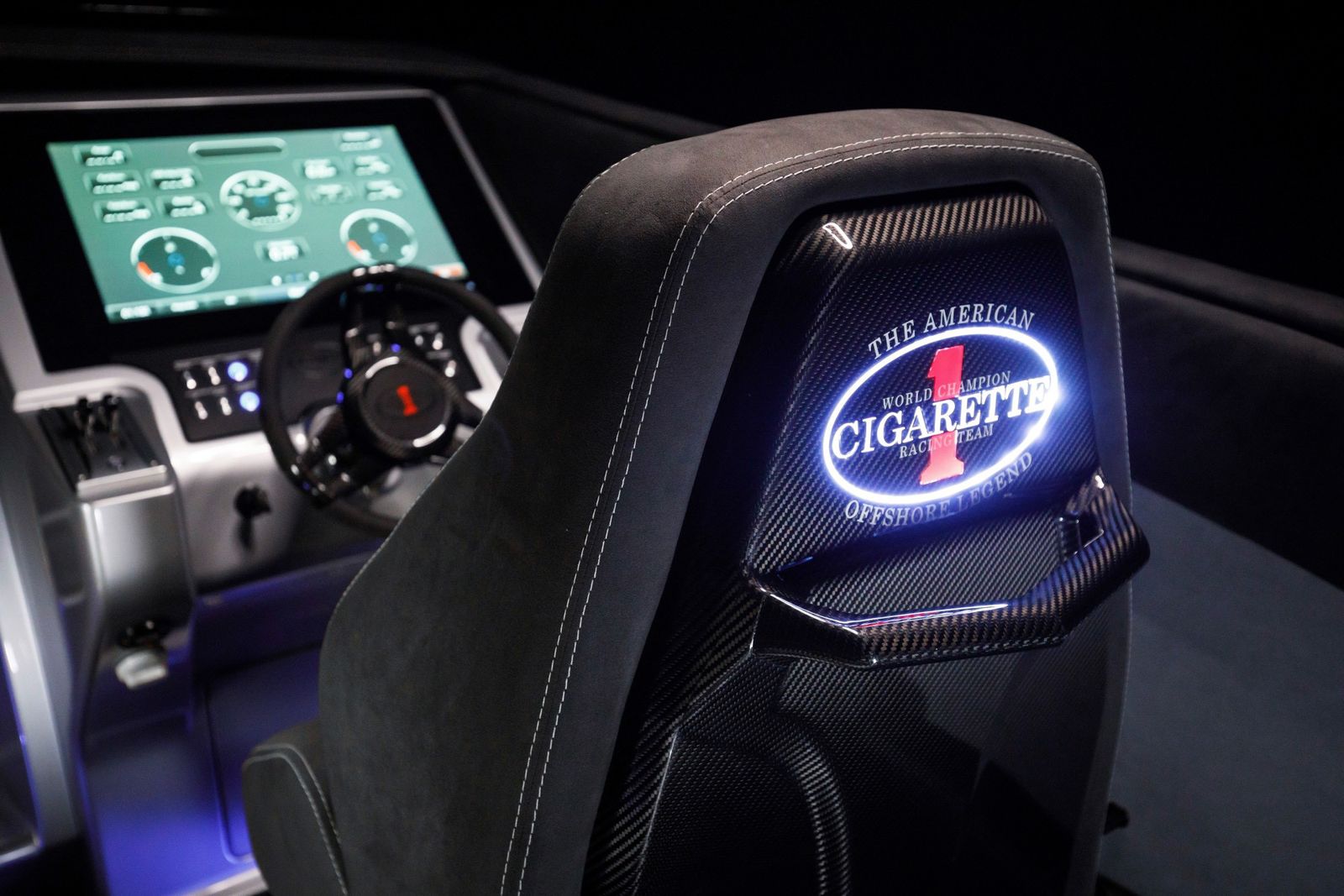 The Cigarette Racing Team 515 Project One is powered by a pair of Mercury Racing 1,550 QC4v (Quad Cam 4 Valve) engines and M8 stern drives, delivering up to 3,100 hp. These powerplants are dual calibration engines, which enable the operator to switch engine power levels through an electronic key fob. The Race Key fob unlocks up to 1,550 hp, requiring race fuel. The Pleasure key fob is used for operating at 1,350 hp with 91 octane fuel.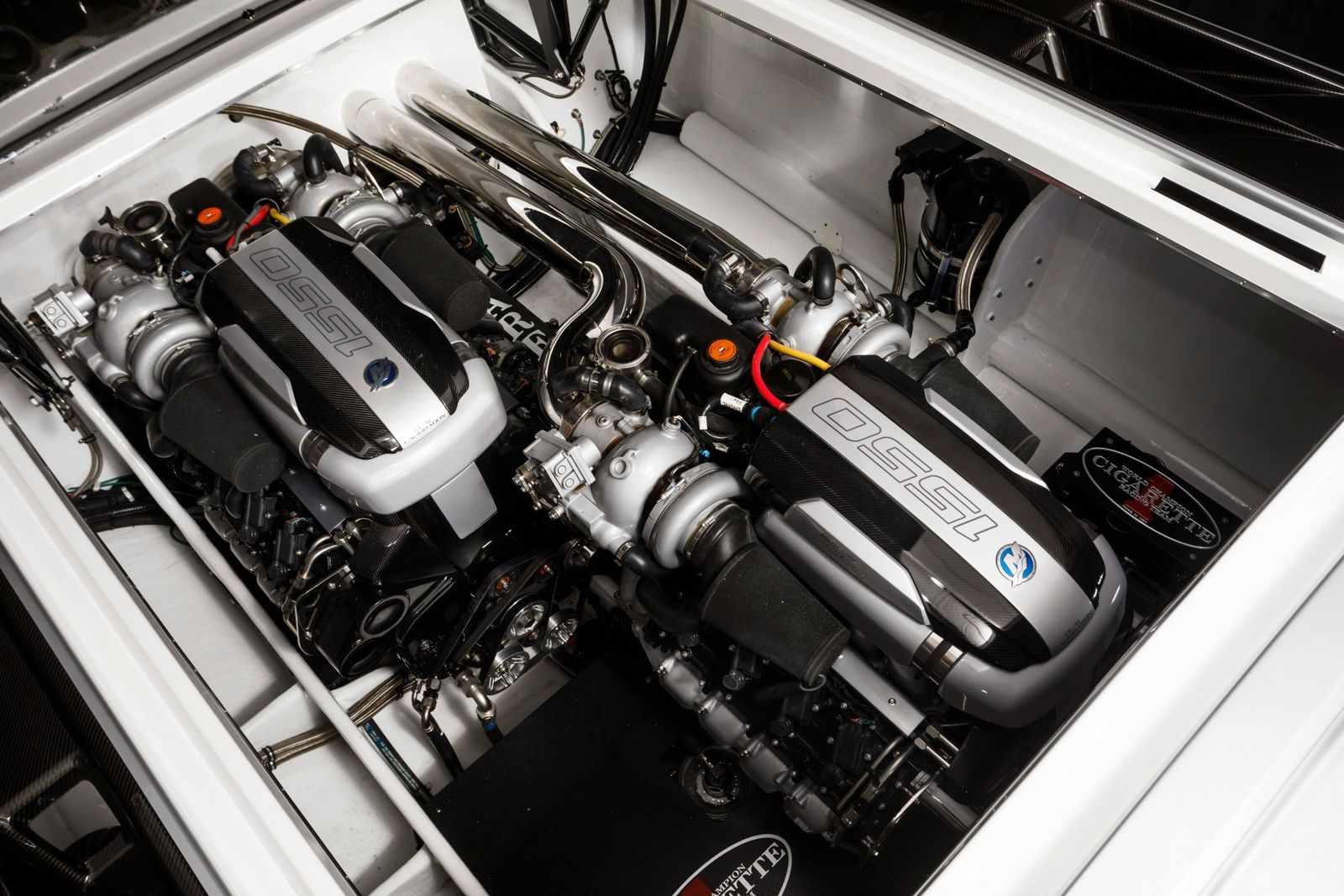 The Cigarette Racing 515 Project One draws inspiration from the Mercedes-AMG Project One, a two-seater supersports showcar that will bring the highly efficient Formula 1 hybrid technology from the race track to the road. This mid-engined high-performance hybrid supercar will have over 1,000 hp, offer a top speed beyond 217 mph (350 km/h) and reach 11,000 rpm. The 1.6-liter V6 hybrid gasoline engine with direct injection and electrically assisted single turbocharging will transfer directly from the Mercedes-AMG Petronas Formula 1 racing car. The high-performance plug-in hybrid drive system will come directly from Formula 1, and will be realized in close cooperation with the motorsport experts of Mercedes-AMG High Performance Powertrains in Brixworth, England.