Rolls-Royce unveils Crystal Blue luxury yacht concept
Hybrid propulsion based on LNG fuel and battery power
Rolls-Royce has unveiled a luxury yacht concept designed to showcase the advantages of advanced ship intelligence solutions and hybrid propulsion based on LNG fuel and battery power in the marine leisure market.
The yacht concept is named Crystal Blue and was unveiled at the Global Superyacht Forum (GSF) in Amsterdam. Crystal Blue also comes with 42m tender, known as Blue Shadow, which doubles as an LNG bunkering barge.
"Crystal Blue has been designed specifically to show how new technology can meet the yacht sector's increased demand for higher performance, greater operating ranges and increased levels of guest comfort, without impacting the environment", says Oskar Levander, Rolls-Royce SVP Concepts and Innovation.
One of the many novel features is the use of an intelligent dynamic positioning system which automatically controls twin azimuthing thrusters and a TT1100 bow thruster – technology that is usually found on offshore support vessels that must maintain their positions next to oil rigs to within a couple of metres. On board Crystal Blue, however, this system allows the yacht to remain in the right spot on the water – without using an anchor – and 'follow the sun' across the sky to ensure sunbathers can enjoy the "optimum tanning angle" while lounging on deck.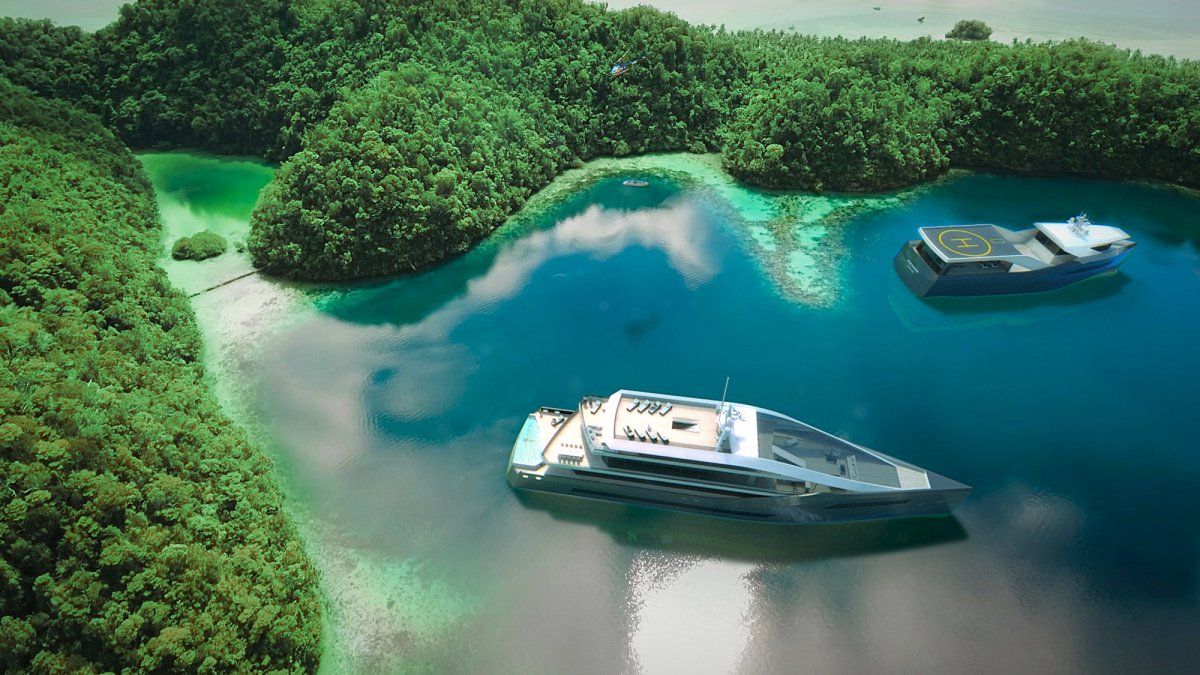 The concept uses a virtual bridge, located below the bow, inside the vessel. The crew is able to monitor and control the vessel using sensors, cameras, display screens and situational awareness technologies. The internal bridge frees up the traditional area of the bridge in the forward part of the superstructure to let owners and guests enjoy a panoramic vista that is traditionally only enjoyed by the crew.
Designed for 12+ passengers and 12 crew, the 62 metre Crystal Blue is based on a composite or aluminum hull operating a power plant based on the Rolls-Royce hybrid LNG/Battery SAVe-CUBE system configuration.
The machinery consists of twin LNG-fuelled 16V4000 MTU M65-N generator sets working in parallel with a battery bank to provide 1MWh of genset-free power during port stays. Two low-weight carbon Azipull thrusters provide propulsive power to achieve maximum service speeds of 20 knots.