Born in Germany, scrapped as a French ship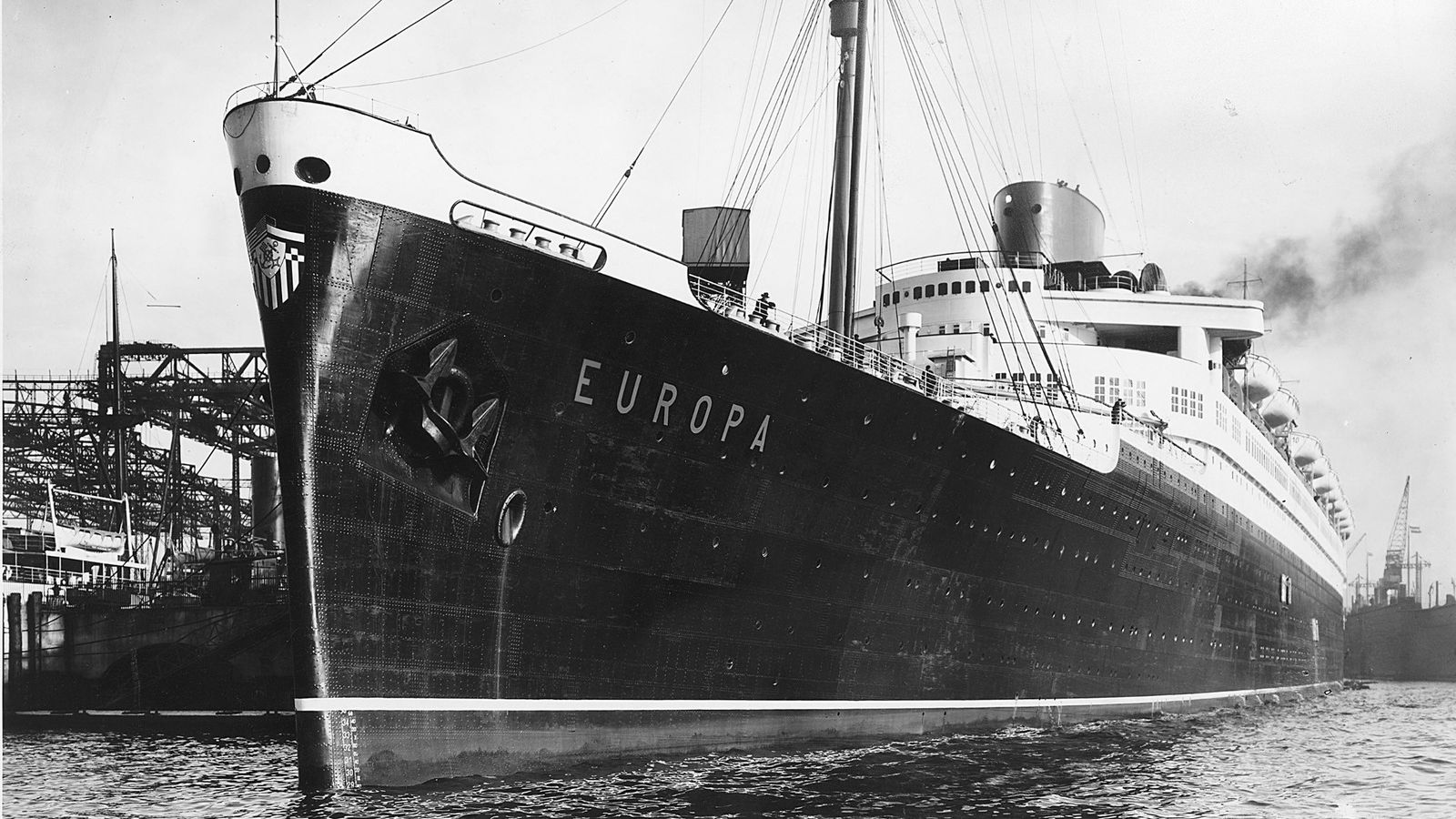 SS Europa was one of the largest German liners ever built. Sister ship to SS Bremen, she was built for the Norddeutsche Lloyd line (NDL) to work the transatlantic line.
Together with her sister ship, Bremen, they were the most advanced high-speed steam turbine ocean vessels.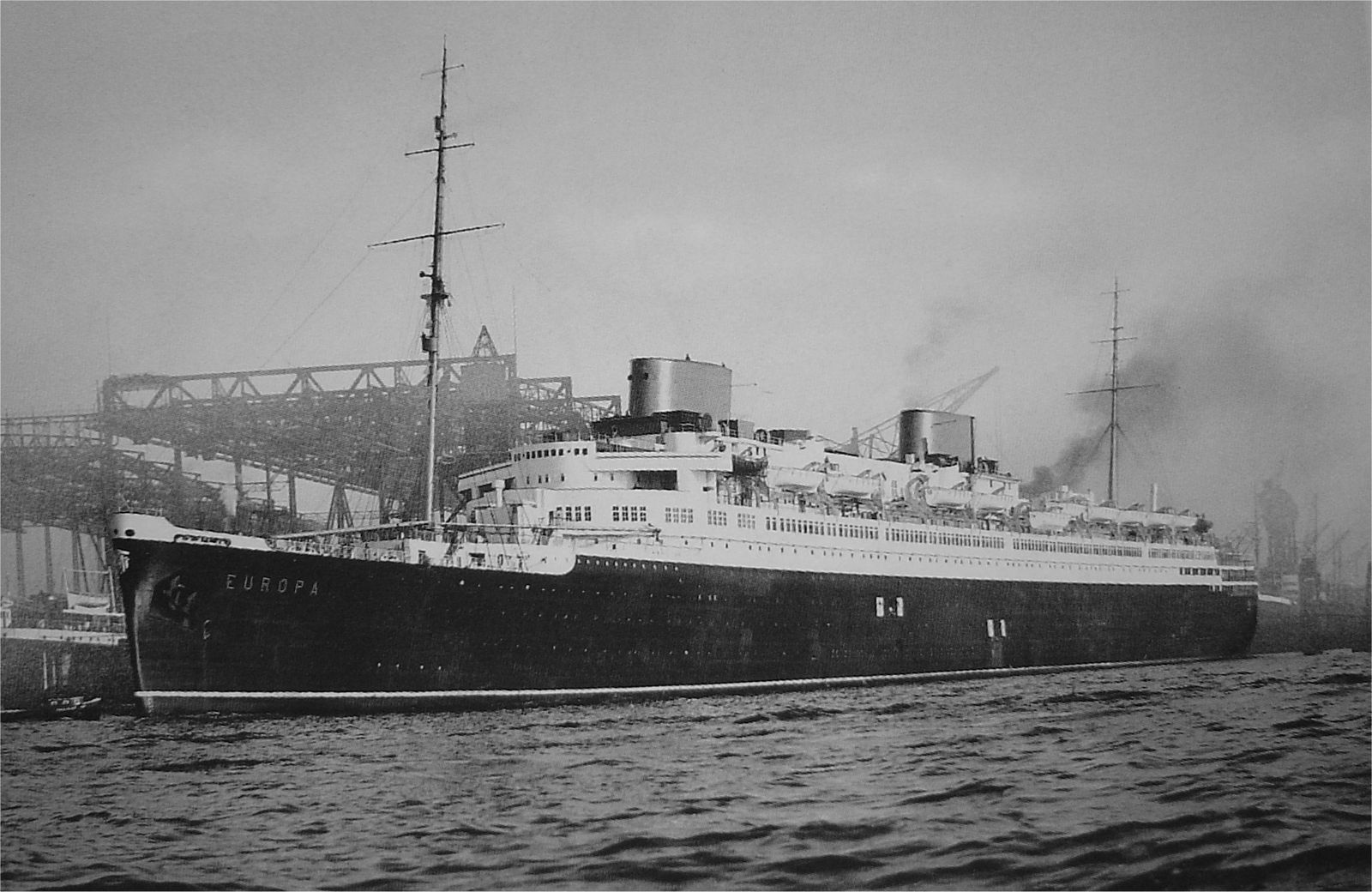 Built in 1929, Europa was the second 50,000 gross ton NDL liner. Both Europa and Bremen were designed to have a cruising speed of 27.5 knots, allowing for crossing times of five days across the Atlantic.
The build of Europa took place at Blohm&Voss shipyard. Launched on August 15, 1928 with a completion date set for the spring of 1929. In the morning of March 26, 1929 a fire broke out. It raged all day and made significant damage to the ship turbines. After long discussions between the builder and the shipping company it was decided to repair the ship.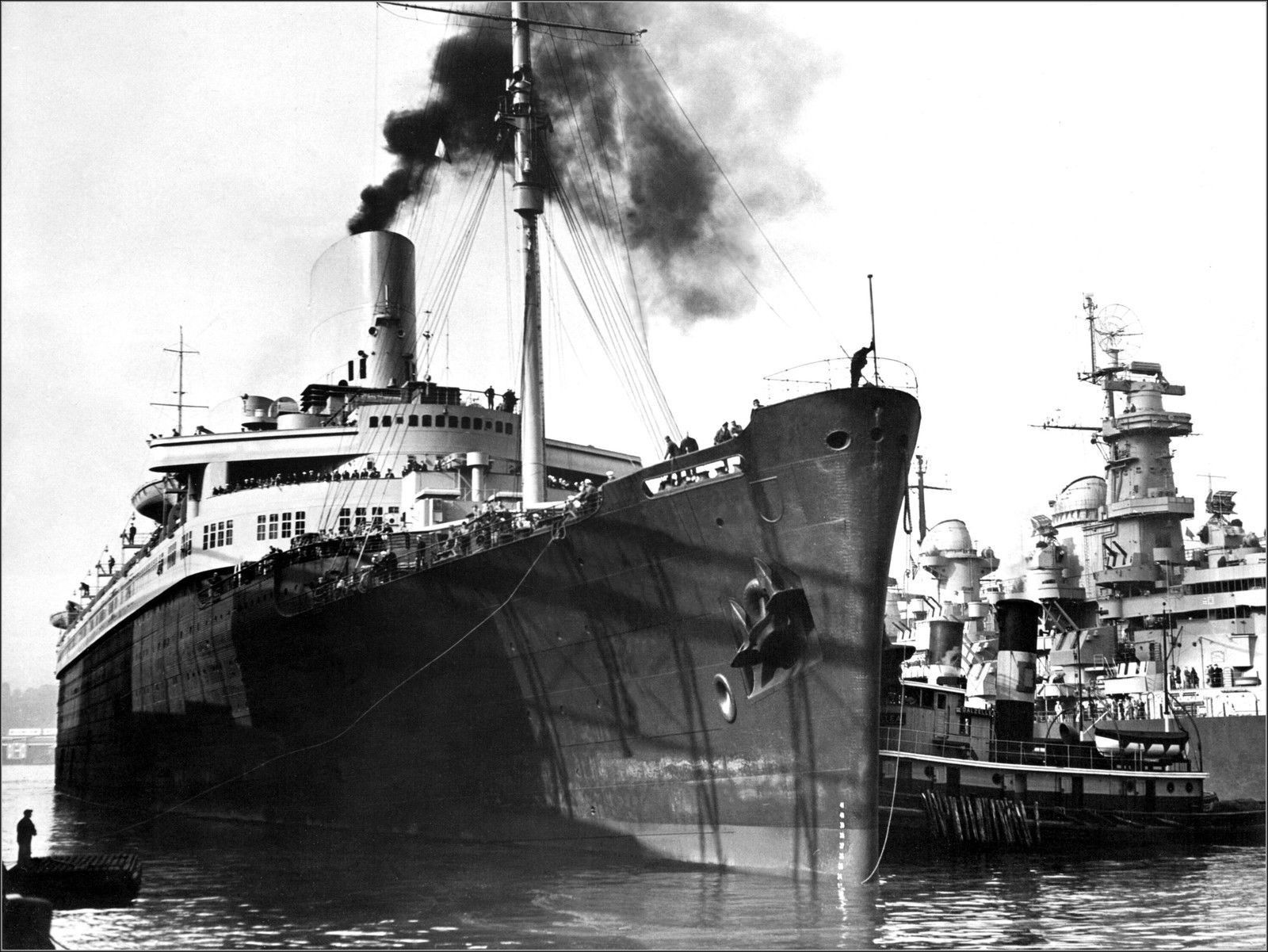 It took eleven months to repair the damage made by the fire. SS Europa was completed on February 22, 1930.
Europa was an impressive ship: 283m long and with a tonnage of 49,749 GRT. It had 12 decks and could accommodate a total of 2,195 passengers in three classes. It needed a crew of 950 people to operate. Power was delivered from four steam turbines generating 105,000 hp. Four large propellers moved the large ship.
Europa set sail on her maiden voyage to New York on 19 March 1930 and conquered the Blue Riband for the westbound crossing of the Atlantic with an average speed of 27.9 knots. The crossing took four days, 17 hours and six minutes.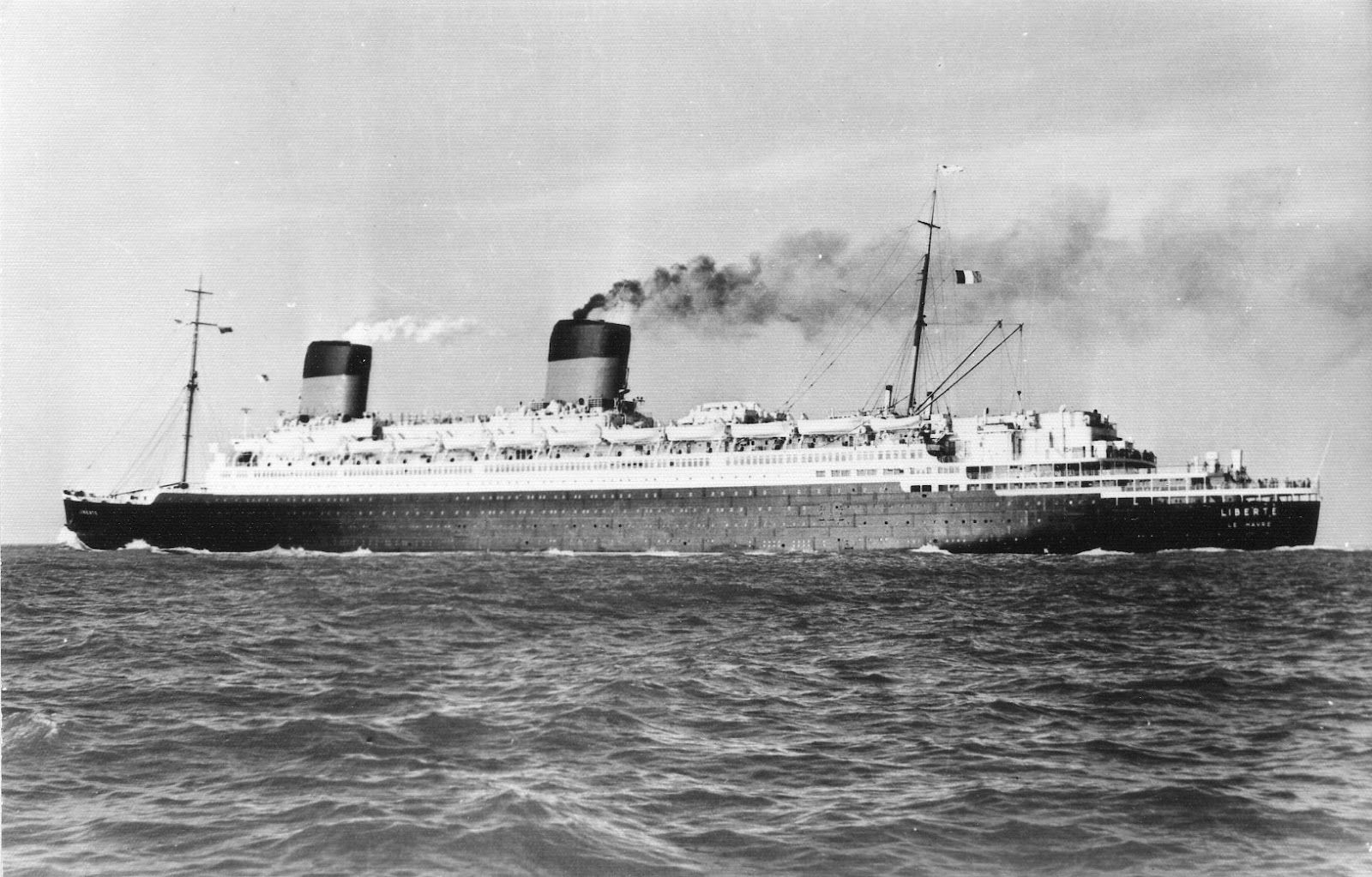 It wasn't a smooth voyage, passenger complaining that soot coming out of the low funnels was disturbing them. The builder corrected the problem by raising the funnels by 4,5m (15 feet). Europa remained the holder of the Blue Riband until the sister ship Bremen recaptured it in 1933.
For fast handling of the mail service, Europa used a small sea plane. It was the same system used on Bremen, also. The plane was launched from a catapult on her upper deck and reached the destination a few hours sooner. The system was removed after a few years of service, for being too expensive and complex to operate.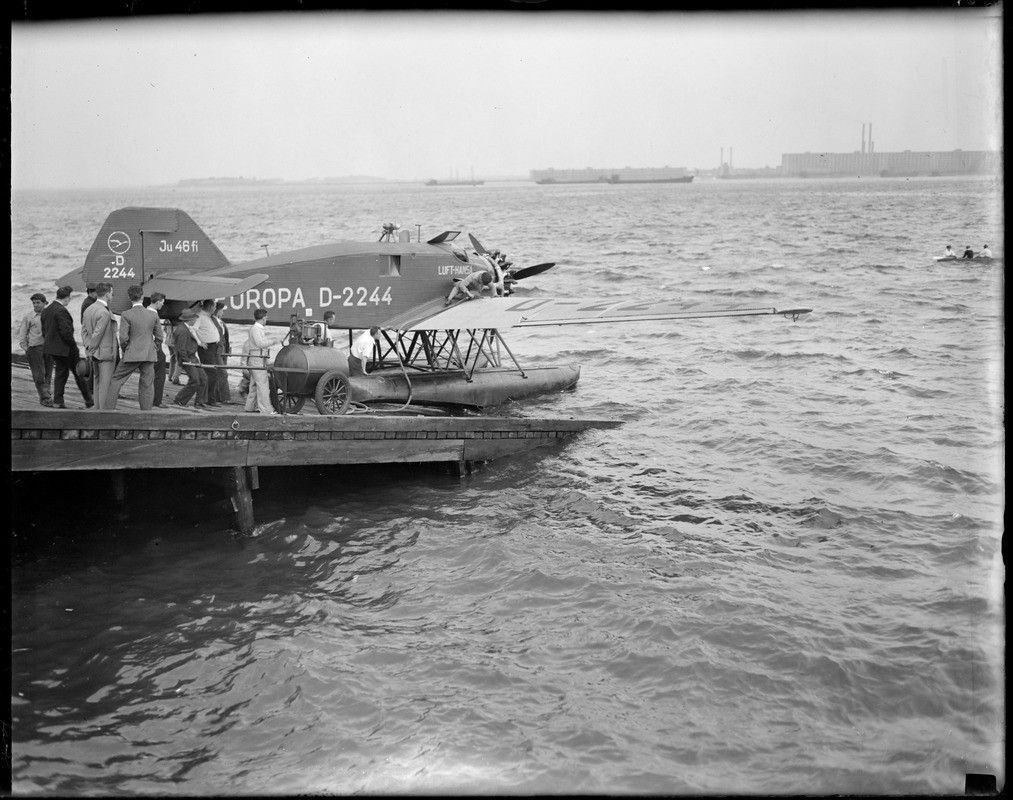 Unlike sistership Bremen, Europa did not see much action during WWII. She was inactive, but there were plans to convert her to an aircraft carrier. In 1945, SS Europa was captured by the Allies and used as a troop ship. Sailing as USS Europa, she was part of the US Navy with an American captain in command. She left Bremerhaven on 11 September 1945 for Southampton, Great Britan. She loaded 4,500 US troops and set sail for New York. After a few crossings as a troop ship, she was returned to the German port of Bremerhaven. Decommissioned on 2 May 1946, she was transferred to France in partial payment of war reparations.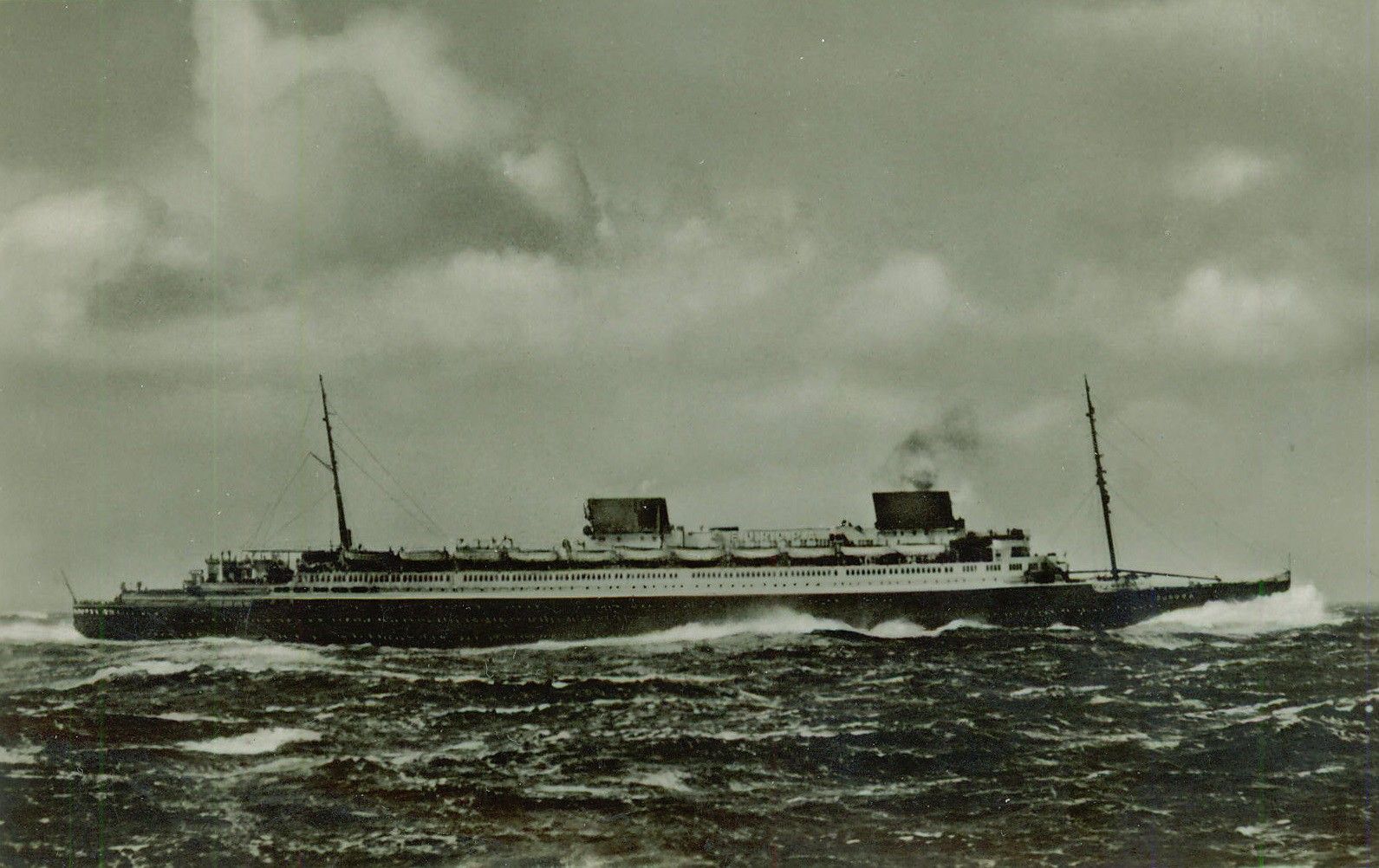 Europa was now owned by the French Line Compagnie Générale Transatlantique. Moved to Le Havre, the French began fitting her for passenger service. A series of fires and two near disaster caused by storms meant it needed five years until she sailed again.
In 1950 she began her second maiden voyage to New York under a new name: SS Liberte.
The new lease of life of the liner translated in 11 years in service for the French transatlantic company. After the launch of SS France in 1960, Liberte was taken out of service in 1962 and scrapped in 1963.
Take a look at some classic footage of SS Europa:
Read more about the Golden Age of transatlantic liners:
Photo credits: Flickr, Reddit, Getty Images