Ahoy, there!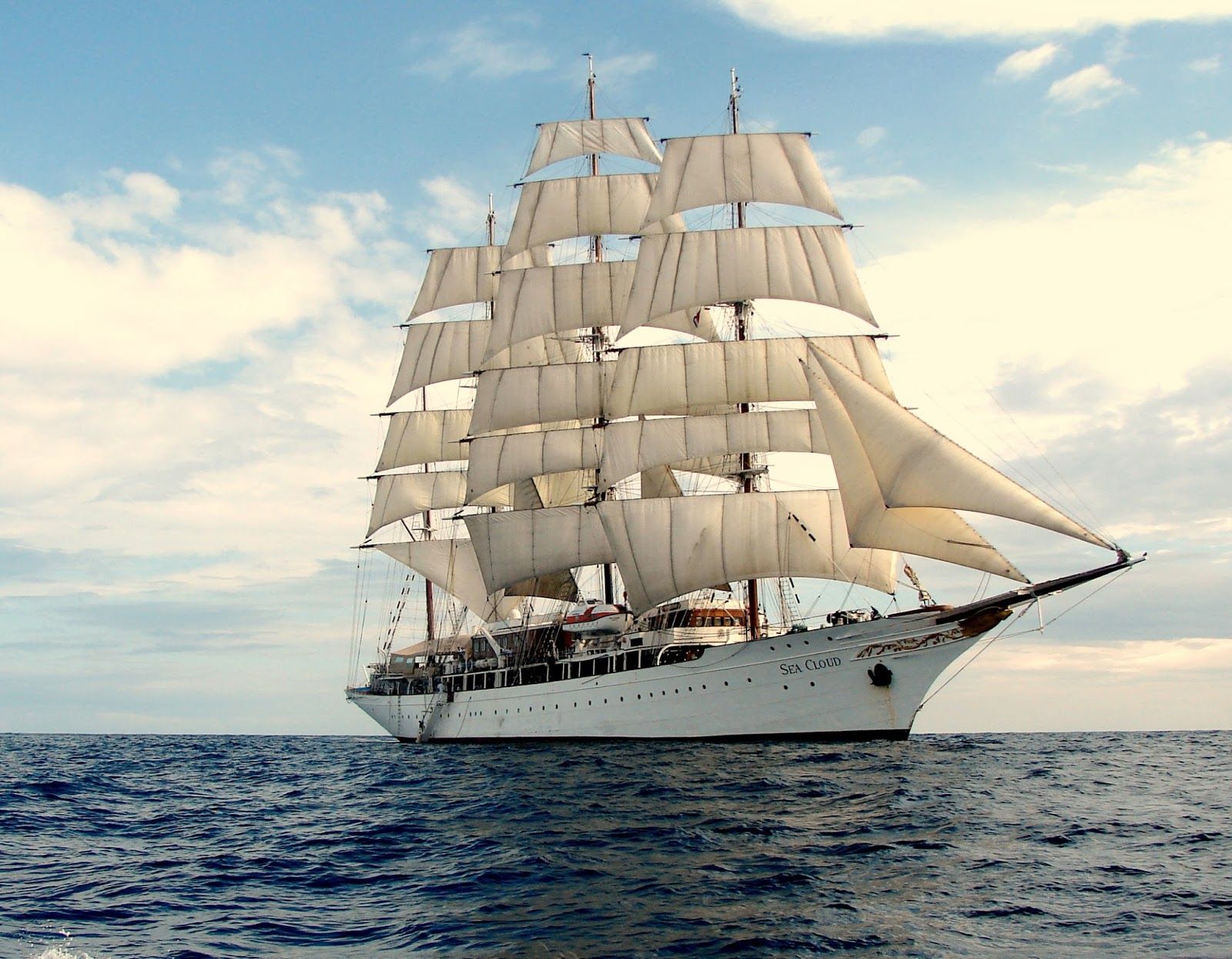 Sailing with the wind is one of the best feelings out there. But, there are a few sailing yachts with truly impressive looks. Here are just eight of them.
1. Sea Cloud
Sea Cloud is the largest sailing yacht in the world. Designed by Cox&Stevens and built by Friedrich Krupp in Kiel, Germany in 1931. Her first name was Hussar II. She served during World War II and went through a series of owners and different names: Patria, Angelita and Antarna. Finally, in 1978 she was rebuilt by new German owners, and the name was changed back to Sea Cloud. Overall length, including bowsprit is 109.5 m. On board Sea Cloud there are 34 guest cabins and she is operated by a crew of 60.
Sea Cloud is available for charter all year round.
2. Maltese Falcon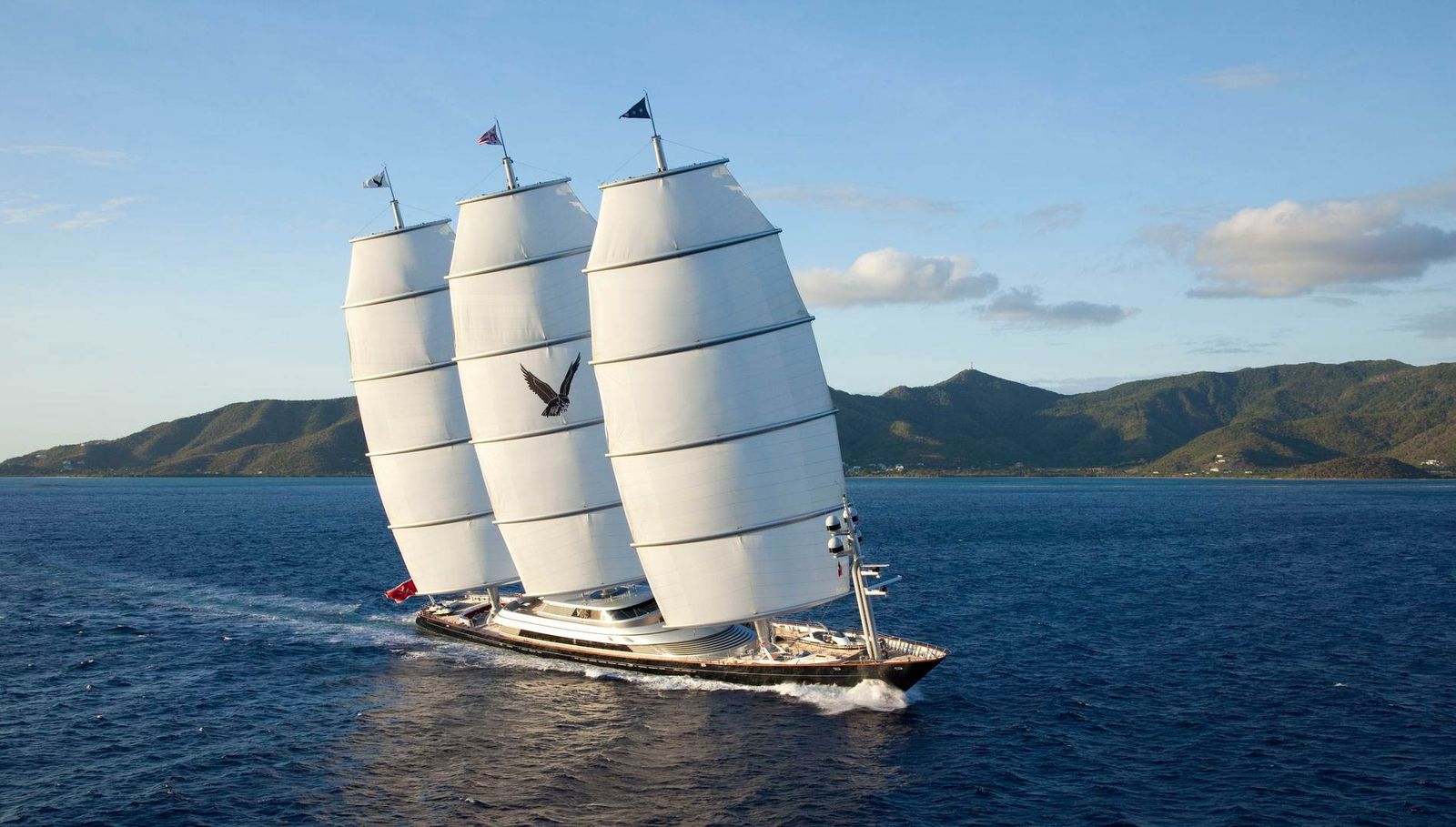 This is a true impressive vessel. Named Maltese Flacon, it's an 88m sailing ship. She was built in 2006 by Perini Navi and uses a revolutionary sailing system named 'the Falcon Rig'. At the time of the launch, it was the first of its kind to be seen on the market.
The luxurious interior offers accommodation for up to 12 guests across six cabins. Her spacious saloon is a fine place for social gathering and relaxation, plus a formal dining area comfortably sits 12. On deck, further options for al fresco dining are offered or for fun in the sun, try some of her water toys which include jet skis, stand up paddle boards and scuba diving equipment. Along the sails, Maltese Falcon also relies on a couple of 1,500 hp Deutz engines. She can cruise at 16 knots.
3. EOS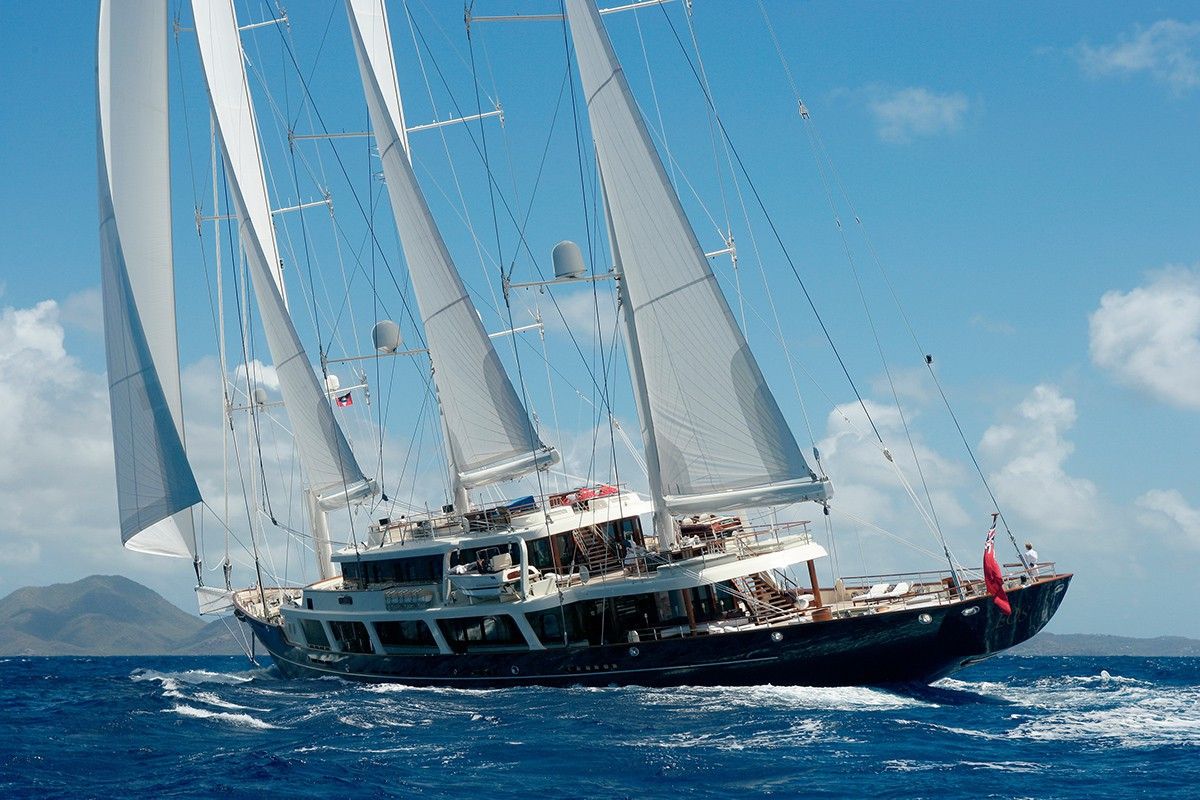 Eos is an impressive three-masted Bermuda rigged schooner. She is one of the largest private sailing yachts in the world. Since 2009, she is owned by media billionaire Barry Diller, husband of fashion designer Diane von Fustenberg. Eos was built in Germany, at the Luerssen shipyards. Launched in 2006, she uses also a pair of MTU diesel engines, each delivering 2,333 hp. Cruising speed is 16 knots. The stunning interior was designed by Francois Catroux. Eos can accommodate 16 guests in absolute luxury. Also, a crew of 21 is available for the guests. She is considered one of the largest sailing yachts. Total length is 93m, length of deck is 83m, legth of waterline 71m.
4. Athena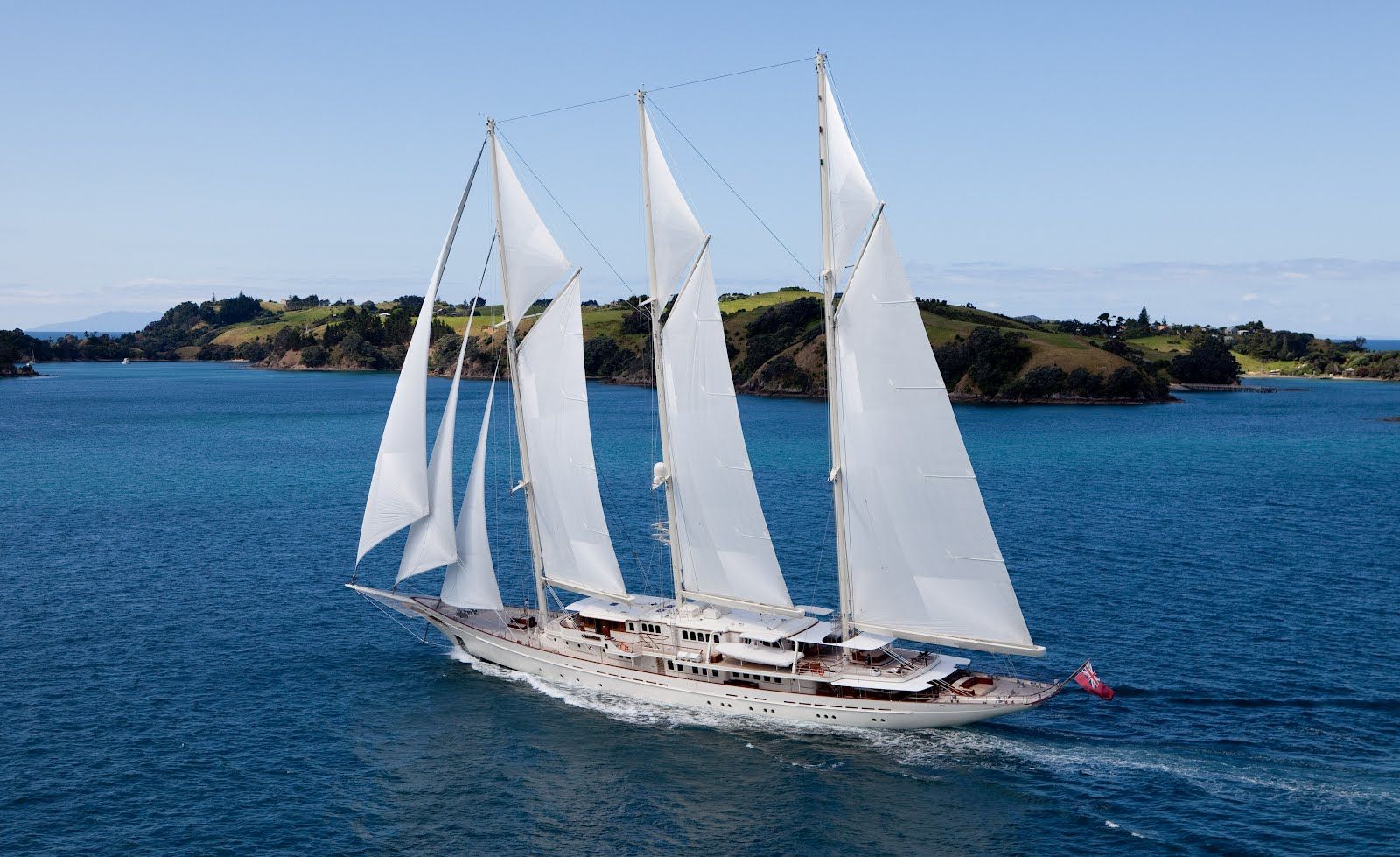 The 90m super sailing yacht Athena was built by the Dutch Royal Huisman shipyard in 2004.
Athena is one of the largest sailing yachts launched since the 1930's, and reaching speeds up to 19 knots, Athena can outrun most other sailing superyachts. She can accommodate ten guests in five cabins. Besides the sails, Athena relies on two 2,000 hp Caterpillar diesel engines.
5. Phocea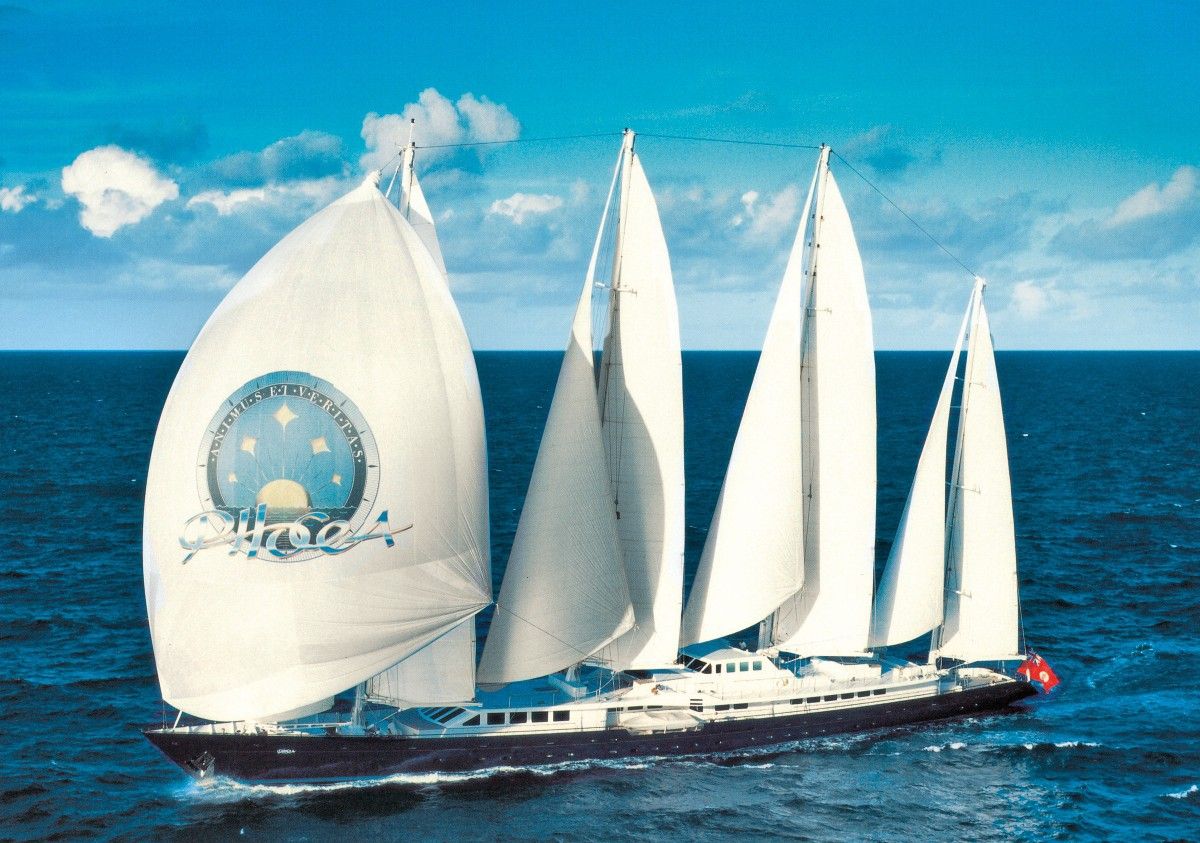 Built in 1976, the four-masted race yacht Phocea competed in the Observer Single-Handed Trans-Atlantic Race. After the race, she was converted to a cruise ship by Frech shipyard DCAN. In 2000, a major refit was undertaken at the Luerssen shipyard in Germany. Phocea accommodates 12 guests in six cabins including a master suite and VIP cabin. She needs a crew of 23 to operate.
6. Sybaris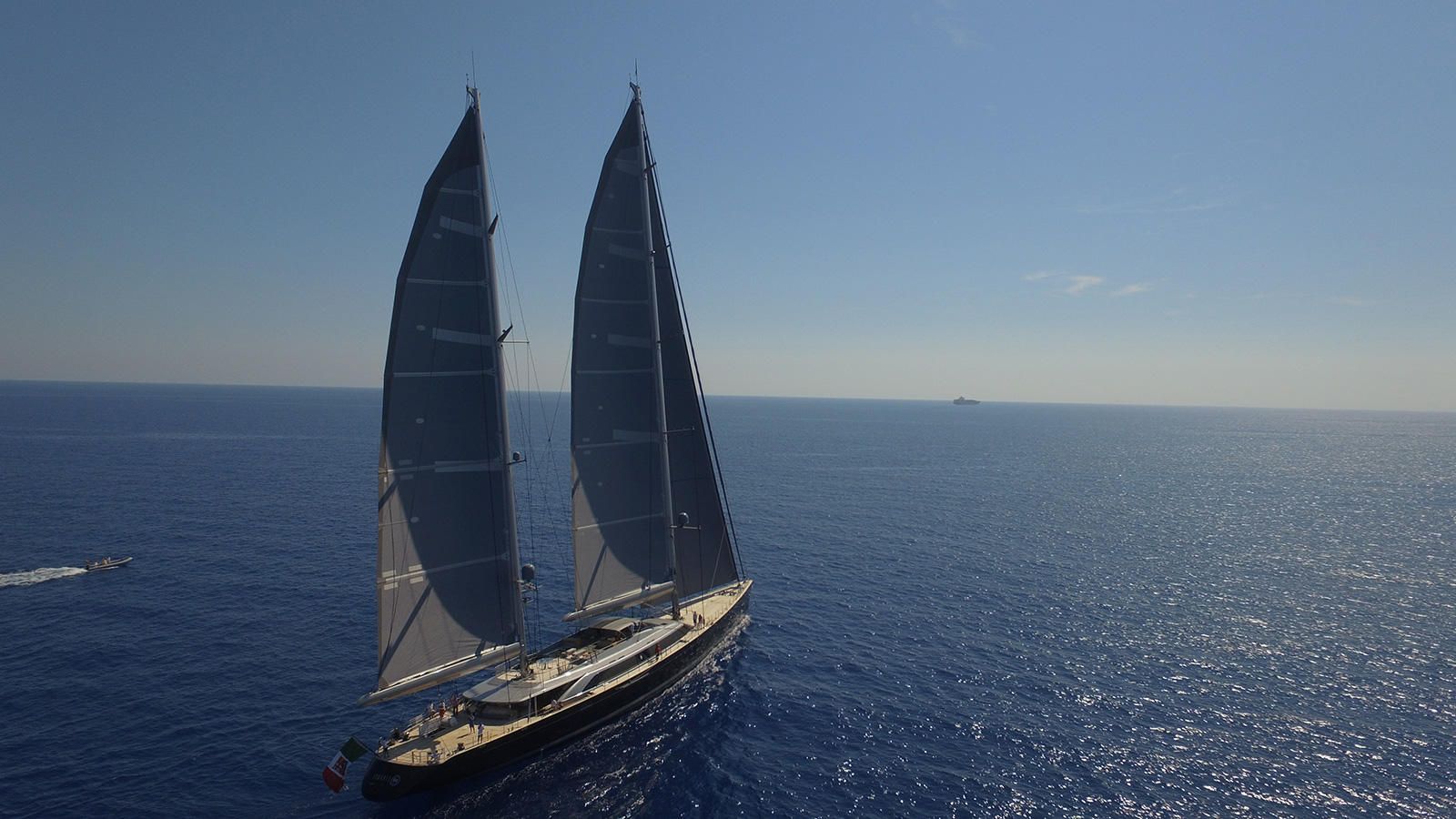 It's the 61st yacht in the Perini Navi fleet. Sybaris has an aluminum-alloy hull, two masts (with heights of 72 and 62 m, respectively) and an electronic system to help with sail handling. Plus a keel with variable draught: from 4.5 m to 11.7 m.
She is the second largest yacht built by Perini Navi. The largest sail yacht is the legendary Maltese Falcon. Interiors of Sybaris are the work of PH Design and showcase contemporary luxury. The sail superyacht can accommodate six guests in one master cabin and two VIP suites. Sybaris's twin MTU 16V 2000 M72 diesel engines generate a total of 3,860hp, resulting in a top speed of 17.5 knots
7. Vertigo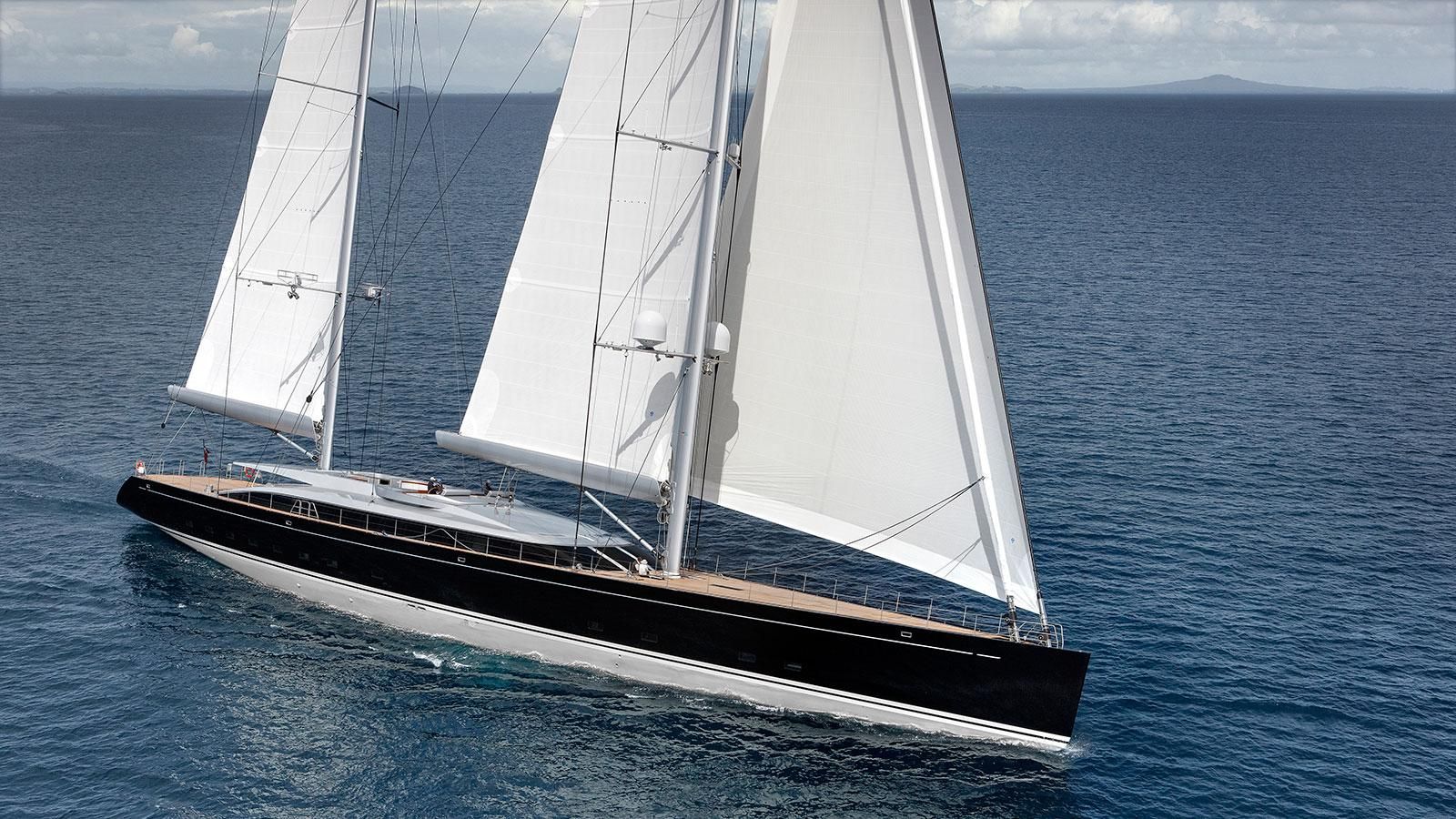 Vertigo is the largest sailing yacht built in the southern hemisphere. She is born out of the New Zealand shipyard Alloy Yachts. Only 29 months were needed for this impressive build. Launched in 2011, Vertigo is designed by Philippe Briands, with interiors by Christian Liaigre. She offers accommodation for 12 guests. Maximum speed is 18 knots.
8. Ahimsa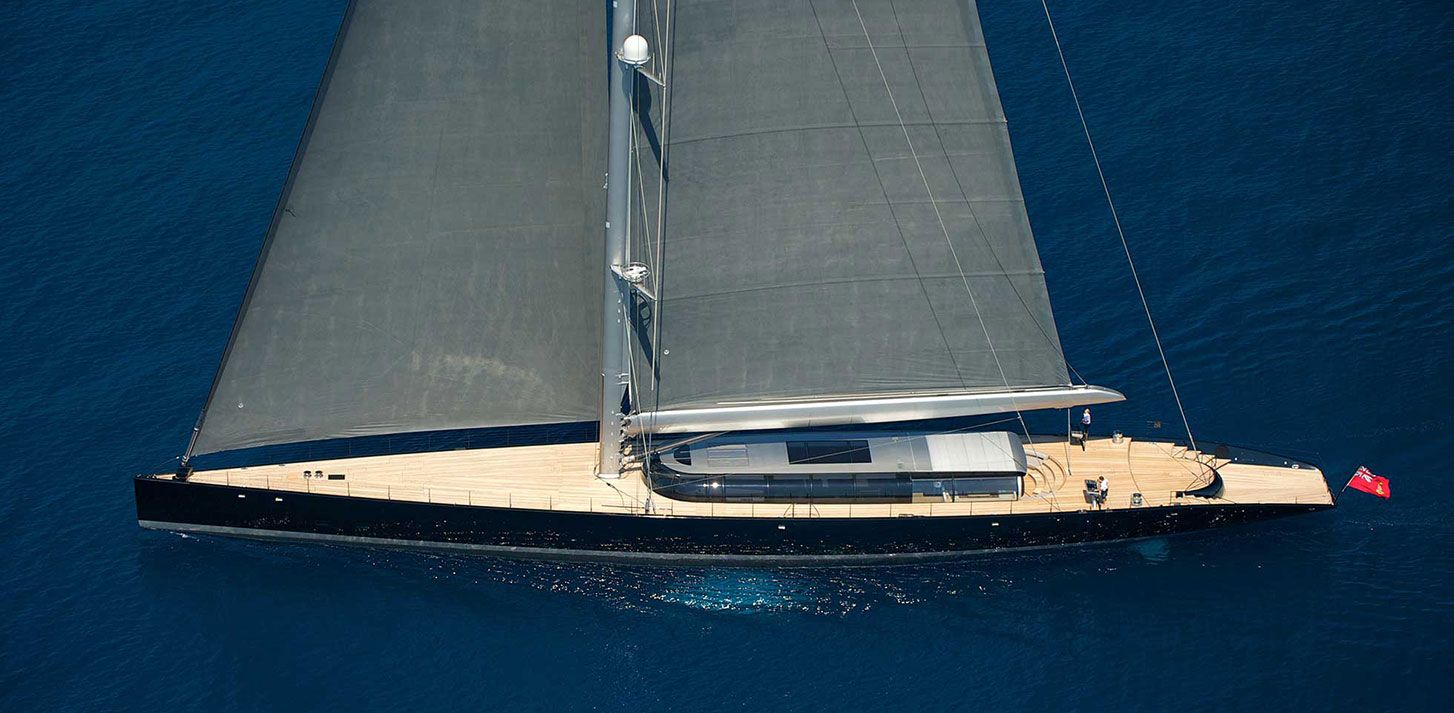 Ahimsa is a spectacular 66m sloop-rigged aluminum yacht. Born as Aglaia, she was designed by Dubois Naval Architects, with interiors by Redman Whiteley Dixon. Built at Dutch shipyard Vitters, she has one of the tallest carbor fibre masts in the world with 83 meters in height. Ahimsa's strengths lie in steering and maneuverability, key features include the ability to hoist the mainsail in less than two minutes and tack the boat within 30 seconds.